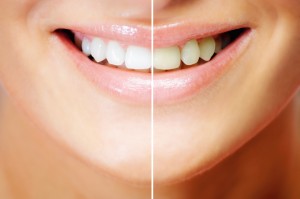 Is your smile not as dazzlingly white as you'd like? Sick of your yellowing, stained teeth? You should consider teeth whitening from Dr. Salivonchik.
Teeth whitening is a simple way to get the beautiful, white smile of your dreams. You'll come in for a consultation with Dr. Salivonchik and will discuss if teeth whitening is the right choice for you. If you are a candidate, then we will make a dental impression of your teeth. This impression will be used to make custom whitening trays.
These trays will be filled with a special bleaching gel that you'll wear on your teeth for a specific amount of time each day. Depending on your teeth and your whitening needs, it could take anywhere from 10 days to a few weeks.
This is a very simple way to give you the beautiful, bright smile of your dreams. Having whiter teeth can boost your confidence and also take years off your appearance. Don't hide your teeth, but do something about it instead! Come see Dr. Salivonchik and learn just how easy and effective teeth whitening can be.
Call our Coplay office today to learn more about teeth whitening and schedule your appointment today. Dr. Salivonchik provides effective, patient-centered care for patients from Coplay, Allentown, Bethlehem, Easton, The Poconos, and all around the Lehigh Valley area.