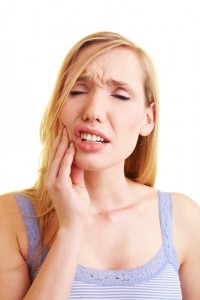 Do you find yourself wincing when you eat or drink something hot or cold? Or maybe it happens when you're enjoying something on the acidic side, like a cup of coffee or glass of orange juice. These are both examples of tooth sensitivity, a common issue faced by patients from Coplay and beyond. In today's post, we'd like to talk briefly about some of the things that can cause it.
Gum Recession
One of the biggest causes is gum recession, which is itself caused by advanced gum disease. As gums recede and more of the patient's teeth are exposed, it's more likely for hot or cold things to come into contact with the porous layer of dentin beneath our enamel.  To prevent tooth sensitivity caused by gum recession, see Dr. S. John Salivonchik at the first sign of gum disease. Proactive care will help you enjoy better health and wellbeing.
Aggressive Brushing
Thorough brushing is good, aggressive brushing is not. If you're brushing hard with a hard-bristle brush, you could be damaging your teeth and gums. If you need help brushing correctly, don't be afraid to ask Dr. Salivonchik for tips. At our Coplay dental office, we're committed to teaching patients how to care for their smile on a daily basis.
Teeth Grinding
Teeth grinding, which is also known as bruxism, can contribute to tooth sensitivity because it can lead to teeth becoming cracked. These cracks expose teeth to bacterial infection and they make the sensitive layer of dentin more accessible. To prevent the kinds of damage that teeth grinding can cause, an oral appliance may be used.
Age
Sometimes, age is a factor in sensitivity. If you're between the ages of 25 and 30, you may experience more sensitivity than at any other time in life. For more information on why, talk to Dr. Salivonchik.
Is uncomfortable sensitivity getting in the way of enjoying your favorite foods? Call our Coplay dental office for an appointment with Dr. Salivonchik. We serve patients from Allentown, Bethlehem, Easton, The Poconos, and beyond.