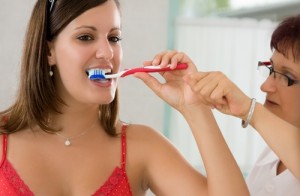 You brush your teeth every day—you should, at least—but have you ever wondered how long toothbrushes have been around? The answer might surprise you.
Most of us would imagine that toothbrushes are relatively modern. And that's true, to an extent. It wasn't until 1938 that the modern toothbrush was invented. But that doesn't mean no one took care of their teeth before that.
Quite the opposite, in fact.
People were cleaning their teeth as far back as 3000 BC, when they used frayed twigs instead of toothbrushes. Then, in 15th century China, the first bristle toothbrush was made with boar hair.
Since then, there have been a number of changes and improvements made to toothbrushes. Even today, companies like Colgate, and event dentists, are still trying to improve the devices we use every day to clean our teeth.
After all, brushing is important.
It's through regular brushing and flossing that you can remove food debris, bacteria, and plaque from your teeth and around your gums. Regular brushing and flossing will help you safeguard your oral health and protect you from common conditions, like cavities and gum disease.
Do you have questions about brushing, or about what to look for in a toothbrush? Call Dr. Salivonchik's Coplay dental office to reserve an appointment. Our office is located in Lehigh Valley and serves patients from Coplay, Allentown, Bethlehem, Easton, The Poconos, and beyond.