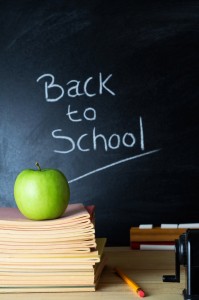 With August just beginning, families everywhere are preparing for the start of a new school year. But with all the excitement over new clothes, backpacks, and school supplies, something like a back-to-school checkup can get lost in the shuffle.
That's why we'd like to recommend calling Dr. Salivonchik's Coplay dental office now instead of waiting, because once the busy school season starts, it can be even harder to bring your little one in for an important exam and cleaning.
Regular checkups and cleanings are essential for patients of any age. During a checkup at our Coplay office, Dr. Salivonchik can look for signs of common oral health problems like tooth decay, gum disease, and TMJ dysfunction, among other issues. What's more, regular visits also let us perform a professional cleaning. Through a professional cleaning we can get teeth cleaner than is possible with just brushing and flossing alone.
A back-to-school visit isn't just a good idea for young kids, though. We'd like to see all of our patients come in for a regular visit, and there's no better time than August. Even though August is the eighth month, it marks a clear line between spring and fall, splitting the year in half.
Are you ready to schedule a back-to-school visit for your child or yourself? We'd be happy to help you. Call our Coplay office today to reserve your appointment. Dr. Salivonchik serves patients from Allentown, Bethlehem, Easton, The Poconos, and beyond.