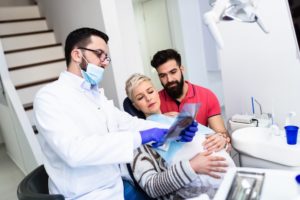 Let's face it, when it comes to your oral health, there is no "one size fits all" approach. You have specific needs and expectations. As a result, it can seem almost impossible to find a dentist near Allentown that you like. To make the right choice for your oral health and to give you the satisfaction that you expect, there are a few simple tips to follow to help you while on your search.

Where Can I Find a Dentist that I Like?
Create a List of Necessities: To find the right choice for your oral health, you need a dentist who can provide you with the services you need today and in the future. Create a list of certain requirements when it comes to the services you need to keep your teeth and gums healthy, such as if they provide gum disease therapy or endodontics.
Ask for Recommendations: To get a list of potential dentists who might be the right fit, ask your family and friends for recommendations. This will provide you with a starting point to find one that has a reputation for providing excellent care.
Look for Online Reviews: Now, you can learn a lot about a dental team by taking the time to read online reviews. This will give you firsthand accounts of the care that you can expect to receive from a specific location.
Visit the Office: Before making your final decision, take the time to visit the dental office to meet the dental team while also experiencing the environment of the office.
How Do I Know If I Have Found the Right Dentist?
Comfort and Satisfaction: From the moment you step into the office, you should feel comfortable and at ease.
Flexible Office Hours: Your dentist should provide flexible office hours that accommodate your daily commitments to make scheduling appointments easy.
Cleanliness: The office you choose should hold the highest standards for safety and cleanliness. It should be well-organized, and the proper protocols must be followed.
Short Wait Time: Your time is valuable. If you scheduled an appointment, you should benefit from a short wait time.
Affordability: To ensure that finances never stand in your way of a healthy smile, choose a dentist who offers affordable services by accepting an array of payment options while also working with your dental insurance.
Personalized Services: To get the individualized care that you need, choose a dentist who takes the time to get to know you to create treatment plans that are specific to your individual oral health requirements.
Choose the Right Dentist Today!
When it comes to your dental care, you deserve to benefit from the best. Take the time to choose the right dentist for your smile.
About Dr. S. John Salivonchik
Dr. S. John Salivonchik is a highly regarded dentist in the community for complete dental care. Due to his extensive training and qualifications, he provides many advanced treatments, including dental implants. If you need a new dentist, benefit for superior dentistry. Contact our office today to schedule your first appointment.