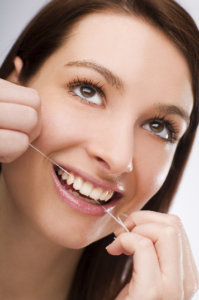 Your toothbrush is your first line of defense against preventable oral health issues, like tooth decay and gum disease. While it is effective, it is only half of the care you need at home. It is also important to floss each night before going to bed; however, the American Dental Association estimates that only 4 out of 10 Americans do it daily, while another 20% never do. Often, this is due to many people not understanding its benefits. When you combine this with a recent article by the Associated Press claiming that it is ineffective, many skip it as part of their daily routine. Although you may view it as a chore, your dentist near Allentown encourages you to floss every day to prevent gum disease.

Why Is Flossing Important?
Your toothbrush is effective for removing harmful plaque and tartar accumulations, but even with the best techniques, there are still areas in the mouth that it cannot clean. It cannot remove the buildups from in between the teeth or around the gum line. The only way to get rid of the accumulations is with flossing. If you do not take the time to floss every day, you significantly increase your risk for gum disease.
Gum disease is an infection that results from harmful bacteria that is found in plaque and tartar. The Centers for Disease Control and Prevention estimates that 50% of adults in the United States have a form of it. While it is common, it is easily preventable with the right oral hygiene habits, like flossing.
Unfortunately, many people do not recognize the early signs of the infection, like bleeding, swollen, or irritated gums. As a result, it goes undetected and untreated until it progresses in severity, causing the gum tissue and supporting structures to deteriorate. Over time, this significantly impacts your oral health, which can lead to tooth loss. However, your mouth is not the only area that is harmed by the infection.
Gum disease is directly linked to causing an array of general health issues. As the bacteria that is responsible for the infection enters the bloodstream, it circulates throughout the body, leading to a diversity of complications, including heart disease, respiratory infections, diabetic complications, and even Alzheimer's disease.
Protect Your Smile with Regular Flossing
Although you may not like to do it, the health of your mouth and body relies on daily flossing. If you skip it, you are opening the door to a host of complications that could have easily been avoided. To protect your smile and quality of life, it is best to incorporate daily flossing into your oral hygiene routine. In addition, do not forget to visit your dentist twice a year for a cleaning and checkup.
About Dr. S. John Salivonchik
Dr. S. John Salivonchik is a trusted and reputable dentist in the area. Due to his expertise and qualifications, he has appeared on many major news programs to promote the importance of dental health. If you have any questions about the benefits of flossing, please contact our office today to speak with a member of our team.