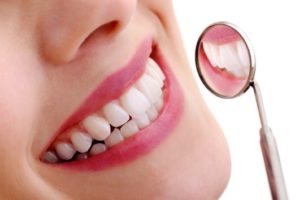 In addition to your teeth, your gums play a vital role in your oral health, as well as your overall health. The soft tissue surrounds the teeth to create a seal, which is tightly bound to underlying bone to help reduce the friction of food passing over them. When your gum health becomes compromised, it can lead to serious complications, such as tooth loss. However, it can also negatively impact your overall health, leading to cardiovascular disease and respiratory infections. Next to your oral hygiene habits and care from your dentist in Lehigh Valley, the foods you eat are equally as important to promoting the health of the tissue.

Preventing Gum Disease
The biggest threat to your gum health is a bacterial infection that develops in the tissue from plaque and tartar accumulations, known as periodontal disease. While it is easily treatable in the early stages, it often goes undetected, leading to serious oral health complications. Over time, the tissue and supporting structures will become damaged, which can result in tooth loss. However, the bacteria can also enter the bloodstream, leading to health issues, like cardiovascular disease, respiratory infections, and diabetic complications.
Promoting your Gum Health
Your oral hygiene habits and care from your dentist play an important role in preventing the infection. However, the foods you eat are equally as important.
Leafy Greens: Leafy greens are great for your body and your mouth. They contain vitamin C to reduce inflammation while also increasing the production of red blood cells to combat gum irritation. They also help to cleanse the mouth to remove harmful plaque and bacteria from the teeth.
Onions: If you are a fan of onions, now you have a reason to eat more. They neutralize oral bacteria due to microbial properties. This not only helps to prevent gum disease but cavities as well.
Citrus Fruits: Citrus fruits contain high levels of vitamin C to support the body's immune system while also holding anti-inflammatory properties. In addition to citrus, peppers, strawberries, and kiwis are equally as beneficial.
Green Tea: When you need a refreshment, turn to green tea, which contains plenty of antioxidants to prevent inflammation while reducing oral bacteria. A cup of green tea a day will help to keep the gum tissue healthy.
Low-Fat Dairy Products: Low-fat dairy products are high in calcium and protein to strengthen the supporting bone structures in the mouth. They also help to neutralize acids that cause bacteria while keeping the enamel strong.
Get Healthy Gums Today
In addition to your oral hygiene habits and dental care, gum-healthy foods will help to ensure a beautiful smile.
About Dr. S. John Salivonchik
Dr. S. John Salivonchik received his DMD from Temple Dental School in 1995 and has completed extensive continued education. Due to his experience and qualifications, he remains an active member of various dental organizations and has appeared on numerous major news programs. As a highly sought dentist in the area, he can answer your questions about your oral health, including how to prevent periodontal disease.