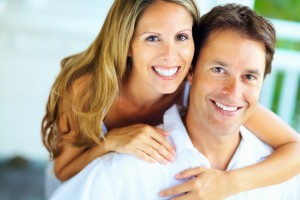 Cosmetic dentistry allows Dr. John Salivonchik to transform smiles — and lives. When it comes a simple procedure that offers incredible results, porcelain veneers top the list. Keep reading to learn more about the treatment and what Allentown porcelain veneers can do for you today.
Porcelain Veneers Are Permanent Smile Enhancers
Porcelain veneers are thin shells placed onto the front of the teeth that show when you smile. They're used to drastically improve the appearance of damaged, gapped or stained teeth. And because porcelain is a material that looks and reflects light just like the rest of the teeth, porcelain veneers offer the most natural-looking option available.
Who Makes a Good Candidate for Porcelain Veneers
If you're wondering whether or not porcelain veneers are a good option for you and your unique smile, chances are good they are.
Successful candidates for porcelain veneers include those who:
Have stained or discolored teeth

Have chipped, cracked or visibly worn teeth

Have gapped teeth

Have misshapen teeth

Experience mild misalignment in teeth
If you have any of the listed cosmetic issues, porcelain veneers could be ideal for you. Your oral health is an important factor, too, so you'll need to schedule a consultation to find out for sure.
What to Expect from the Porcelain Veneers Procedure
The total treatment for porcelain veneers takes two visits to Dr. Salivonchik's office. During your first visit, your teeth will be carefully evaluated and you'll discuss your overall smile goals with the doctor. It can help to bring in photos of what you want and don't want your teeth to look like, as not everyone wants a super-bright celebrity smile.
Once Dr. Salivonchik thoroughly understands what you want to achieve with porcelain veneers, a treatment plan is put in place and your teeth are prepared for your veneers. That includes shaving a very small amount of the tooth — like 1 to 2 millimeters — to make sure the veneer has room to lie in line with the rest of your teeth. You'll leave your first appointment with temporary veneers, one big step closer to your beautiful new smile.
In the time between your first and second appointments, your permanent veneer is created by a talented ceramist highly trusted by Dr. Salivonchik. Once complete, the veneers are shipped to our Allentown office.
The second appointment with Dr. Salivonchik is when the magic happens and your permanent veneer is placed. A local anaesthetic is available for your total comfort. The temporary veneer is removed, and after you've approved the look of the permanent veneers, they'll be securely bonded on. Then you get your big reveal: a beautiful, shining smile you'll be thrilled to show off.
Schedule an Appointment With Your Allentown Dentist Today
If time has left its mark on your teeth, you deserve a smile spruce-up. Call our Coplay, PA dental office today to schedule your appointment or consultation with Dr. Salivonchik. Our practice is located in Lehigh Valley and we proudly serve our neighbors in Coplay, Allentown, Bethlehem, Easton, The Poconos and surrounding areas.