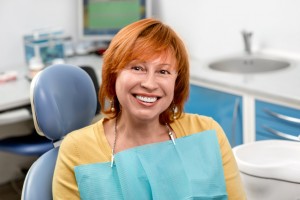 Chances are good that you know someone with dental implants. The only thing is, you might not realize it. That's because, unlike with other tooth replacement options, you never hear anyone mention their loose, uncomfortable or ill-fitting dental implants. Why is that? It's simple: implants are the absolute best solution in tooth replacement. Learn more about Allentown dental implants from Dr. S. John Salivonchik, and find out if they're right for your smile today!
Dental Implants Offer the Sturdiest Solution for Missing Teeth
There's no doubt about it — compared to other options in tooth replacement, nothing replaces teeth as successfully as dental implants. That's because, unlike fixed bridges or non-implant supported dentures, dental implants replace the visible portion of the tooth as well as its root.
You've lost your whole tooth, after all. So why would you replace only half of it? A prosthetic root keeps the jawbone healthy, preventing deterioration and further tooth loss later on. It also gives you the sturdiest, best-fitting tooth replacement possible.
What To Expect From the Dental Implant Procedure
In all, the procedure for traditional dental implants takes from three six months, depending on your unique treatment plan. That sounds like an eternity, but it's the time necessary for your jawbone to fuse with the titanium implant — an important process also known as osseointegration. Some patients, however, can have their new teeth placed immediately, without the long recovery period. Whichever option is right for you, you can take comfort knowing you'll never be without teeth during the dental implant process.
If the traditional route is right for you, once your jawbone has fused with the dental implant, your implant dentist will expose the top of each implant and connect an abutment. That's a small post which securely anchors your tooth replacement to the bottom of the implant. The result? A sturdy, natural-looking replacement you won't have any hesitation showing off.
Find Out if Dental Implants Are Right for You
Are you interested in finding out whether or not dental implants could be an effective solution for you and your missing teeth? The only way to know for sure is to schedule an appointment with Dr. Salivonchik. In this initial appointment, he'll check your mouth for two things.
Adequate existing jawbone structure. In order for your dental implants to be successful, you need to have enough supporting structure to start with. Sometimes tooth loss has already caused too much deterioration of the jawbone and alternative options must be discussed.

Good oral and overall health. Patients should also be in acceptable health in general. Some conditions that affect the immune system, like diabetes, can prevent proper healing following the initial implantation. It's important you discuss all relevant health information with Dr. Salivonchik during your dental implant consultation.
If you and the Allentown dentist decide dental implants are a good solution for you and your mouth, that's great news — he can begin putting together your unique treatment plan immediately.
Request Your Dental Implant Consultation Today
Call our Coplay, PA dental office today to schedule your appointment or consultation with Dr. Salivonchik. Our practice is located in Lehigh Valley, and we are proud to serve Coplay, Allentown, Bethlehem, Easton, The Poconos and all surrounding areas.