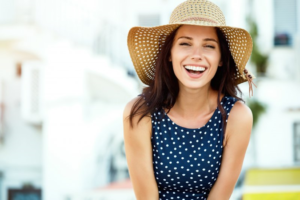 What's on your to-do list this summer? Are you planning a trip across the country to visit family, viewing landmarks along the way? Are you hoping to enjoy time down at the beach, basking in the cool ocean breeze? Or maybe you're simply looking forward to kicking back and relaxing at home with family and friends? No matter how you're planning to spend your summer season, the very first thing you should consider doing is visiting your dentist for a checkup! Here are three reasons why.
#1. Your Smile Will Look and Feel Its Best All Summer Long
Whether it's a wedding, graduation, backyard cookout, or vacation hotspot, there are all kinds of photo opportunities throughout the summer—and you should want your smile to look its best for every single one of them! By visiting your dentist at the start of the summer, they can ensure that your smile doesn't just look stunning, but it's also free from issues that might turn problematic. Not to mention, if there is something you'd like addressed concerning the appearance of your smile, your dentist can employ one of many cosmetic services to help you meet your smile goals.
#2. You'll Be Safeguarded from Dental Emergencies
While it simply isn't possible to avoid dental emergencies altogether, there is still quite a bit you can do to prevent them—and it starts with visiting your dentist. The last thing that you'd want to happen while you're out having fun is to suffer a dental emergency, and a healthy mouth is far less likely to experience issues. Your dentist can also provide you with advice for preventing dental emergencies throughout the rest of the summer. Plus, if something were to happen to your smile, you'll already have a trusted emergency dentist you can contact!
#3. You're Taking Advantage of a Generous Summertime Window
If you schedule your dental visit early in the summer, you're guaranteed that there's a large window to fit in any necessary or lengthy treatments. You also shouldn't have many issues finding a timeslot that works for you and your family's schedule, especially if you have kids who're out of school. Plus, since summertime occurs right in the middle of the calendar year, it's a good time to attend your first biannual visit if you haven't already; remember, most dental insurance plans cover these checkups!
About the Practice
Dr. S. John Salivonchik and his team are thrilled to provide patients and families in the Lehigh Valley, PA community with an unmatched level of dental care. His practice is pleased to offer a wide range of preventive, cosmetic, and restorative services that are certain to help you and your loved ones achieve optimal oral health. If you have any questions about the blog or you need to schedule a visit before the summer kicks off, feel free to contact the practice online or by phone for assistance. Telephone: (610) 502-1545.