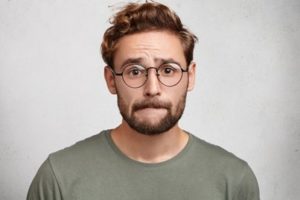 There are many reasons people don't visit the dentist regularly. Work may be consuming your time; the cost may be an issue or dental visits may cause you so much anxiety that it's difficult to get yourself to go. But regardless of your reasons for skipping dental visits, it's great that you've decided to return! Not knowing what to expect can be pretty nerve-wracking, but try not to be too stressed. Here is what you can expect during your first dental checkup after a hiatus.
A Longer Visit
Meeting a new dentist or getting reacquainted with an old one will take a little time. Your dentist will physically examine your oral tissues (gums, tongue, cheeks and lips), inspect your bite to make sure it is properly aligned and they'll check for cavities, infections and jaw issues. If it's been more than a year since your last set of X-rays were taken, you will probably need a new set to help your dentist get a better view of any cysts, tumors or decay that might be lurking behind your gums. Once your exam is done, it will be time to have your teeth cleaned. In your time away from the dentist, it is very likely that you have quite a bit of plaque and calculus (hardened plaque) below your gum line that will need to be removed.
Technological Advances
There are always new techniques and technology being developed, especially in dentistry. If it's been a while since you've been to the dentist, you will likely experience a new step or treatment. For example, if you've avoided the dentist due to anxiety, your dentist can offer sedation dentistry. This technique allows for a drastically less stressful experience that allows you to receive the treatments you need to improve your dental health. Other examples of this include tooth-colored fillings, metal-free crowns and CEREC one-visit restorations.
Creating a Treatment Plan
At the end of your appointment, your dentist will take time to discuss any problems or concerns they've found during your exam or in your X-ray and explain the best plan of action to treat them. They will also discuss your current dental care routine possibly recommend ways to improve it to prevent future issues. This is also a great time to discuss any questions, concerns or thoughts you may have about your smile, your oral health and any dental goals you may have.
It's not uncommon to skip a dental appointment or two. And if you have dental anxiety, it's very understandable to want to avoid the dentist altogether. Whatever has kept you from the dental chair, just know that your dentist is here to help you, not to judge you. It is never too late to achieve the healthy, beautiful smile you deserve. 
About the Author
Dr. S. John Salivonchik and his team offer the latest technology to provide patients with personalized, comprehensive dental care. From digital cavity detection to one-visit restorations, Dr. Salivonchik is equipped to care for any dental issue that you may have. He earned his Doctor of Dental Medicine from Temple Dental School, and he is committed to improving techniques and treatments through continued education through advanced trainings and seminars. If you're ready to get your dental health back on track after a hiatus from the dentist, Dr. Salivonchik can help! Visit the website or contact the office at (610) 502-1545 to schedule your appointment today!