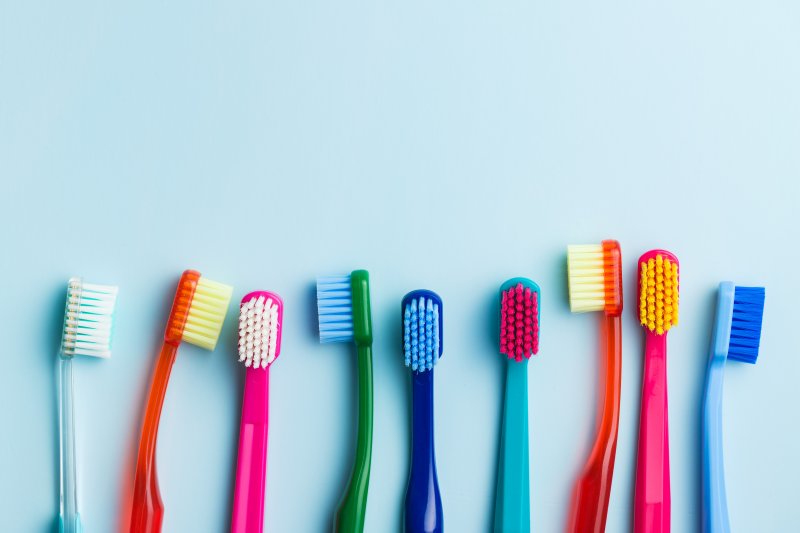 If you're like many dental patients, you may think there aren't major differences between toothbrushes. After all, the appliances can look alike at first glance. Dental practices also tend to emphasize the need for toothbrushing rather than the kind of toothbrush you use. However, did you know that brush type can greatly impact oral health? Depending on its particular features, a brush-head can have varying effects on your teeth and gums. To prove it, here's a summary of three kinds of toothbrushes from your dentist in Lehigh Valley.
Type for Irritated Gums
In general, the best toothbrush for gingivitis is a soft one that can reach under the gumline. That way, it can clean the space between your teeth and gums without causing further irritation.
One example of this type is the GUM ® Sulcus Toothbrush. It features two rows of ultra-soft bristles that reduce contact with the gums and act gently on sensitive gums. It also has a smaller brush head that lets you sweep away dental plaque.
Another is the Sulcabrush. Created by a dentist, it has a single tuft meant to be used vertically. This design lets it press onto the teeth's surface so that its bristles splay out. It's said to slow down gum disease and reduce bleeding.
Type for Braces
Due to their brackets and wires, braces are often challenging to clean around. Using only an everyday toothbrush for the process is often tiring and tedious.
Luckily, it's possible to add an interdental toothbrush to the cleaning. This brush can reach sections of your teeth that are usually inaccessible due to the braces. As such, it can remove more plaque and bacteria than a normal brush could on its own.
Type for Dentures
If you wear dentures, you should brush them daily to keep them free of germs and bacteria. You can even make the process easier by using a specially-designed denture brush.
For instance, consider the GUM® Denture Brush. It has two sides with different brush heads: one for smooth surfaces and one for hard-to-reach areas. The first one's flat bristles are firm and resilient, helping it to remove plaque and debris from the inner and outer surfaces of the denture. Meanwhile, the second head has tapered bristles helpful in cleaning the corners of the appliance.
As you can see, the kind of toothbrush you use can positively or negatively affect your smile. Talk to your local dentist for advice on finding a brush that meets your dental needs!
About the Author
Dr. John Salivonchik is a dentist in Coplay, PA, having earned his DDM from the Temple Dental School. He provides patients with preventive, cosmetic, and restorative dental treatments, not to mention emergency services. He is also a member of the American Dental Association, Pennsylvania Dental Association, and the Academy of General Dentistry. Dr. Salivonchik currently practices at his self-titled clinic and can be reached at his website or by phone at (610)-502-1545.