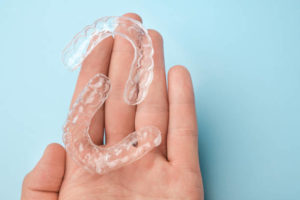 If you've been waiting for the right opportunity to invest in a straight smile with Invisalign, this is it! Although anytime is a good day to start your journey to better dental health, there are several advantages to beginning orthodontic treatment during the summer. Here's why you should take a break from soaking up the sun to visit your dentist for Invisalign.
It's Never Too Late for Straight Teeth
Whether you missed your chance for braces as a child, or your teeth have moved a little, you're never too old for braces. Misaligned teeth are difficult to keep clean, increasing your risk of cavities and gum disease, which are leading causes of tooth loss. Not to mention, an unbalanced bite can cause dental problems and increase your risk of a TMJ disorder.
1 in 5 orthodontic patients is over the age of 18 because of less noticeable treatments, like Invisalign. You will improve your confidence and dental health by fixing your bite and alignment.
More Time to Adjust to Aligners
Your aligners will fit over your teeth like gloves, but it can take a few days to get used to them. Your mouth may be tender for a few days after getting your aligners, which you can manage with an over-the-counter pain reliever. Your words might also sound slurred at first. You'll have time to adjust to speaking with Invisalign if you've saved up a few vacation days for the summer.
Won't Compromise Your Appearance
Invisalign is made of transparent plastic. Although you can see the aligners when holding them in your hand, they are very difficult to detect when wearing them. You won't have to worry about unwanted attention drawn to your teeth.
Comfortable and Convenient Method
Your aligners will be smooth and custom-fit for maximum comfort. There won't be any brackets or wires irritating the insides of your mouth. You'll also spend less time in the dentist's chair. You won't need appointments for adjustments, but you'll still need to check in with your dentist every few weeks to monitor your treatment progression.
Quick, Lasting Results
The average treatment with Invisalign takes about 12 months. You can ensure there aren't any delays by wearing your aligners for at least 22 hours per day and switching to the next set in your series every 1 to 2 weeks, as instructed by your dentist.
Affordable Solution
If your dental insurance includes orthodontics, your benefits can pay some of the expense after meeting your deductible. Your dental team will work on your behalf with your insurance to maximize your coverage to keep a straight smile within your budget.
This time next year, you could have straight, healthy teeth by using the clear choice in orthodontics.
About Dr. S. John Salivonchik
Dr. Salivonchik is a reputable dentist with over 2 decades of experience. He achieved his dental degree from Temple Dental School and has completed extensive continuing education in advanced services, like dental implants, Invisalign, and laser dentistry. Dr. Salivonchik is a member of many professional organizations, including the American Academy of Cosmetic Dentistry. Request an appointment through our website or call (610) 813-2855.