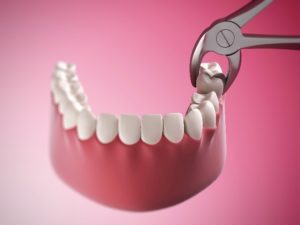 Every tooth is important for more than just a beautiful smile. Each one serves a vital purpose and is necessary to your oral health and functions. Although your dentist strives to preserve natural teeth, there are situations when extractions are necessary. Here are 4 instances when removing a tooth is best.
1. Orthodontics
Extractions may be required before beginning orthodontic treatment. In cases of severe overcrowding, specific teeth are taken out to create more space to resolve alignment and bite issues.
2. Infection
A root canal is an effective solution to treat an infected tooth, but if the procedure is delayed, extraction may be the only option. If the infection reaches the pulp, a root canal may no longer be enough.
Advanced gum disease can also lead to extractions. The infection can destroy the supporting structures of your teeth, which will ultimately cause them to fall out if they aren't removed.
3. Wisdom Teeth
Wisdom tooth removal is among the most common types of extraction. When there's not enough space in the back of the mouth to accommodate a third set of molars, it can lead to overcrowding, infections, pain, and other issues.
4. Severe Damage
Severe injury, decay, or other damage can cause a tooth to be unrepairable. If there's no saving it, your dentist will recommend removing it and replacing it with a prosthetic, like a bridge or dental implant.
Do You Need Tooth Replacement?
Not all extracted teeth need to be replaced, like those removed for orthodontics or the third molars. However, if a tooth is lost from infection, damage, or trauma, your dentist will recommend having it replaced as soon as possible.
There are many options to treat tooth loss, but dental implants are the most preferred. They are unlike any other treatment because they replicate both the root and the crown, providing a close replica of your real teeth. With over a 95% success rate and a lifespan of 30 years or longer, they are a wise investment to fill the space in your smile.
Having a tooth removed is a big decision. If you're not certain the procedure is necessary, don't hesitate to get a second opinion. You'll have peace of mind knowing you're making the best choice for your smile.
About Dr. S. John Salivonchik
Dr. Salivonchik earned his dental degree at Temple Dental School and has regularly continued his education in advanced specialties, like cosmetic dentistry, dental implants, and oral surgery. He is a reputable dentist who is a proud member of several professional organizations, including the Academy of General Dentistry. If you need an extraction, request an appointment through our website or call (610) 813-2855.