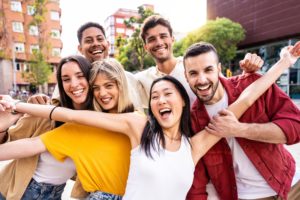 Summer vacation is a great time to relax with family and friends, not to mention get away from your usual day-to-day routine and responsibilities. There are some things, though, that you'll want to continue through summer, and oral hygiene should be one of them! Read on for tips about how to keep your smile healthy all summer long.
Keep Your Routine
It may be tempting to fall into new habits during the long summer days, but you should keep up with your usual oral hygiene routine. This should include regularly brushing your teeth at least twice per day for two minutes and flossing daily. Remember; even if your daily hours and activities change this season, you should continue to take care of your teeth as you normally would.
Watch What You Eat
And we don't mean counting calories (though you can if you want!) You might have many opportunities this summer to indulge in foods and beverages that you usually don't during the rest of the year. While the occasional treat is fine, overindulging can lead to significant oral health issues. Be mindful of:
Carbonated beverages (like soda or sparkling water), which contain acid that can wear down the enamel of your teeth.
Foods with high sugar content. Eating sugary foods leaves your mouth more susceptible to bacteria, which can grow and cause problems like bad breath or even tooth decay.
In short, feel free to have that ice cream cone or cold soda to beat the heat, but don't overdo it! Your smile and your waistline will thank you.
Drink Water
Staying hydrated is important year-round, but especially during the hot summer months. This year we are seeing temperatures skyrocket to dangerous levels, and drinking water will keep you hydrated and avoid overheating. Drinking water also benefits your teeth by rinsing away any remaining food particles after eating. This will discourage the growth of additional cavity-causing bacteria.
Visit Your Dentist
Make an appointment to see your dentist before you head out on that trip this summer. That way any concerns can be addressed before you leave home, which can help avoid an expensive dental visit should something happen while you're away. For example, catching a small cavity you might not even know about can save you from needing a root canal in the middle of your break. Being proactive before you leave can put your mind at ease so you can fully enjoy your time off!
Keep your smile bright and happy! Remember these tips so that you can keep your teeth strong and healthy for a carefree summer break.
About the Author
Dr. S. John Salivonchik graduated Summa Cum Laude with his Doctor of Dental Medicine at Temple Dental School and has been serving patients for more than two decades. His practice provides general, restorative, and cosmetic dentistry and takes pride in top notch customer service. Make an appointment today to get a check-up before you leave for your summer vacation by visiting the website at or by calling (610) 502-1545.