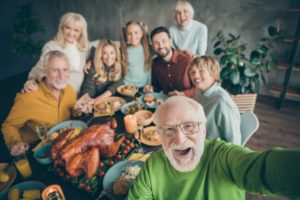 For most people, Thanksgiving is about some combination of family, friends, food, and football. That sounds like a pretty good time, but there are some steps you can take to make sure your teeth aren't feeling detrimental effects from the occasion in the days to follow.
Keep reading to learn some suggestions from your dentist in Lehigh Valley where you can enjoy the fabulous food without setting the stage for a Christmas cavity.
Avoid an All-Day Eating Plan
When you eat frequently throughout the day, you are constantly exposing your teeth and gums to bacteria and then plaque. If you can plan to eat at certain times, your saliva can do a more effective job of getting rid of the bacteria. Obviously, you'll be eating the Thanksgiving meal, plus maybe a light breakfast in the morning if you aren't fasting and then one follow-up session later in the day if you are on the hunt for a turkey sandwich or some pumpkin pie.
Watch Out for Hard or Sharp Foods
There are so many foods available on Thanksgiving Day and odds are that some of them are going to have a hard texture or even bones. If you are eating nuts, hard candy, or a turkey leg, just be careful when biting and chewing so you don't crack a tooth or cut your gums.
Steer Clear of Sticky Foods
From caramel at the dessert table to marshmallows in the sweet potato casserole, there are some tasty, sticky foods on Thanksgiving. If you manage to avoid them while navigating the culinary gauntlet on Thanksgiving, your teeth will thank you. Items like these are packed with sugar and stick to your teeth, so they send your changes of developing plaque buildup through the roof. It's wise to brush your teeth after every meal, but it's never more important than after you've had some sticky, sugary desserts.
Be Careful with Your Beverage Selection
From cranberry juice to red wine, there are plenty of potential Thanksgiving beverages that can be problematic. Examples like these are acidic and full of sugar with staining potential, so it's important to brush your teeth afterward if you do partake. Also, sugary or alcoholic drinks can dry up the saliva that naturally helps clean your mouth. If you drink items like these, switching to water from there is a great idea to battle bacteria.
Keep Sugar Consumption in Check
Sugar has already been painted as a culprit in earlier sections, and it's well-deserved since it leads to cavity-causing bacteria that produce acid to harm your tooth enamel. From cranberry sauce to pecan pie, sugar is all around you on Thanksgiving. Try to minimize your sugar intake and definitely brush your teeth after indulging.
Thanksgiving cuisine is a delicious minefield your teeth are trying to get through in one piece, and you can certainly help them safely head toward December. Besides making smart choices on the big day, remember that an exam and cleaning by your dentist is a wise choice to keep your teeth healthy through the holiday season!
About the Author
Dr. John Salivonchik is a skilled general, cosmetic, and restorative dentist who has been helping people from all walks of life achieve the smile they desire for more than two decades now. He earned his Doctor of Dental Medicine from Temple Dental School, graduating Summa Cum Laude. Dr. Salivonchik keeps the learning going strong, as he attends advanced training and seminars across the country each year. He understands the challenge of making wise decisions for a healthy Thanksgiving, and if a piece of pie gets the best of you, he'll be there in December to assist you with a professional exam and cleaning. To schedule an appointment, visit his website or call (610) 502-1545.