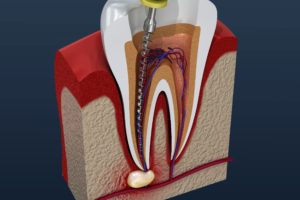 The root canal procedure is one of the most revered treatments in dentistry because of its bad reputation for being painful. Now, you have nothing to fear because it is virtually pain-free. In fact, it isn't any worse than a traditional filling using the latest innovations in dentistry; however, it's normal to still be concerned about the necessity of the treatment. Instead, you might be considering having your tooth extracted. While this might solve the problem, it will lead to a new list of complications. Here's why your Lehigh Valley dentist will recommend a root canal.

What is a Root Canal?
A root canal is an endodontic procedure that extracts the inner most layer of the tooth, called the pulp. It's necessary when a tooth has suffered significant damage, such as from decay. Although over 15 million root canals are performed annually, your dentist will only recommend it if there aren't any other options to save your tooth. If your tooth isn't treated with a root canal, it will ultimately lead to the loss of your tooth.
Do I Need a Root Canal?
If you have a problematic tooth, your dentist may suggest a root canal to resolve:
Infection
Deep decay
Repeat dental procedures
Faulty crown
Significant break or fracture
Your dentist will perform a comprehensive examination to ensure a root canal is in your best interest.
Is It Better to Have the Tooth Extracted?
You might feel it's better to have an extraction because it eliminates the problem at its source; however, this will lead to a new list of complications. Every tooth is essential to your oral health and functions. When even a single tooth is missing, your jaw will slowly deteriorate because the root isn't there to stimulate the bone.
Over time, your remaining natural teeth will lose support. This causes them to shift out of alignment, increasing your risk of cavities, gum disease, and additional tooth loss. Not to mention, you'll also need to invest in a permanent dental prosthetic to fill the space of the lost tooth.
A root canal will preserve your tooth. In fact, it can last for a lifetime with the right care over the years. After the procedure, a dental crown will be bonded over it to restore its function and appearance while also protecting it from additional damage.
Save Your Smile Today!
If you have a damaged tooth, it doesn't need to be removed. Your dentist can save it with a root canal. You'll ensure your smile lasts for a lifetime with prompt care from your dentist.
About Dr. S. John Salivonchik
For over 20 years, Dr. Salivonchik has combined his qualifications and experience with the latest advancements in dentistry to provide world-class care. As a skilled cosmetic and restorative dentist, he can restore a damaged tooth back to its previous state while also improving its appearance. If you have a tooth that's giving you grief, contact our office today to see if a root canal is the right choice for you.