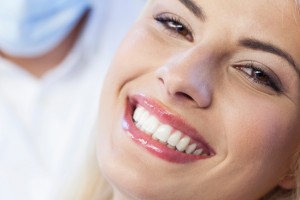 Stains, chips, cracks, gaps, uneven surfaces — these and other issues are erased with porcelain veneers. But how do porcelain veneers work? And how are dental veneers attached to the teeth? We take a look at these and other questions below. Dr. Salivonchik transforms smiles with porcelain veneers in Allentown.
How Do Porcelain Veneers Work?
Dental veneers don't really correct your cosmetic imperfections. Rather, they completely cover them up, essentially giving you an instant smile do-over. That's why dental veneers should only be used for improving cosmetic dental issues. When functional issues exist with a front tooth, a dental crown may be a better solution for strengthening the tooth as well as improving its appearance.
How Long Do Porcelain Veneers Take?
The procedure for porcelain veneers in Coplay is completed in two to three visits to your dentist's office. Expect around three weeks for the total treatment time.
In the first appointment for dental veneers, we'll discuss your ideal look and put together a treatment plan for your dental veneers. Your teeth will be prepared and you'll wear temporary coverings until your permanent veneers have been manufactured. Approximately two weeks later, you will return to our office for their final placement.
How Are Veneers Applied to Teeth?
When your veneers are ready to be placed on the teeth, Dr. Salivonchik will remove your temporary veneers. Local anesthetic is available to ensure you are completely comfortable throughout the treatment. To apply the veneers (after you've seen what they will look like and have given your final ok), Dr. Salivonchik will apply an acidic solution to roughen the surface of teeth for proper bonding. Then, he will place the veneers and cure the bonding material with a special light. After each veneer has hardened, the procedure is complete — and you are the proud owner of a brand new, dazzling smile!
How Long Do Veneers Last?
With proper maintenance, your dental veneers can last for decades. Cavities cannot develop on porcelain, but the surrounding surface of your teeth is still vulnerable to decay. Your gums are also at-risk of gum disease without proper dental hygiene. Make sure you are brushing your teeth for two minutes, at least twice a day, flossing daily, and visiting your dentist as recommended. You will have a follow-up visit a few weeks after the placement of your veneers — make sure you come to this appointment to confirm that your veneers are functioning just like they should.
How Can I Get Started With Veneers?
Contact Dr. Salivonchik's office to discuss your options in cosmetic dentistry or to begin with your porcelain veneers in Lehigh Valley! We can't wait to reveal your new smile. Request your appointment today.