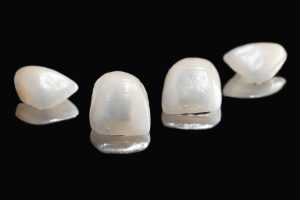 Are you ready to transform your imperfect smile into a smile of confidence and perfection? If so, porcelain veneers are a noninvasive way to drastically enhance the appearance of your smile. The appearance of your smile has a significant impact on your quality and enjoyment for life. If you are dissatisfied with your smile, you are probably not as outgoing as you could be. But, with porcelain veneers in Coplay, you can smile confidently with a perfect smile.

What are Porcelain Veneers?
Porcelain veneers are among the most popular forms of dental veneers in Coplay because they produce high quality results using a minimally invasive procedure. Porcelain veneers are false fronts that are bonded to the front side of the teeth. Since porcelain is used, light naturally reflects off the surface of the veneers to create a natural looking smile. The veneers are versatile, allowing them to be used to correct several cosmetic flaws. Using a simple and noninvasive procedure, you maintain more of your tooth's structure as less enamel is removed during the bonding process when compared to traditional dental veneers.
How Can Veneers Improve My Life?
Porcelain veneers can be used to hide several cosmetic flaws to enhance the beauty of your smile. Often, people who have cracked or chipped teeth choose veneers to give their teeth a shapelier appearance. For those who have gummy smiles, veneers are used to make the teeth appear more proportionate. In addition, the bright white appearance of the veneers are perfect for resolving dark tooth discoloration.
In some cases, veneers are also used as an alternative option of orthodontic treatments. If you have minor alignment issues, such as slight overcrowding or small gaps, veneers can be used to make the teeth appear straighter. You will not have to undergo months of orthodontic treatment.
After the veneers are bonded to your teeth, they do not require any extra care. The false fronts are strong and durable. With the right care, they will last an average of 10 years before needing replaced. You will have a flawless, stain-resistant smile to smile confidently for an improved outlook on life.
How Can I Get Veneers?
In most cases, as long as your teeth are healthy, you can get dental veneers. To begin the process, you will need a consultation with Dr. S. John Salivonchik. Dr. Salivonchik will evaluate your smile to formulate a treatment plan.
During the first phase of treatment, your teeth will be cleaned and prepared by removing a small amount of enamel. Then, impressions of your teeth are taken to create your custom veneers at a dental lab. Temporary veneers will be attached to your teeth while you wait for your new veneers to be made. After your new veneers are ready, the temporary veneers are removed and your new veneers will be bonded to your teeth.
If you are ready to improve your life with a beautiful smile, make an investment in your confidence with porcelain veneers. Contact our office today to schedule a consultation.