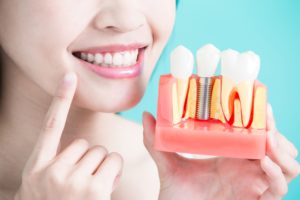 Dental implants in Lehigh Valley are often considered the gold standard for replacing missing teeth; these awesome implants are capable of restoring your lost pearly whites in terms of look, feel, and functionality. Better yet, they can last for a very long time if you take great care of them! Here's a little more insight into what allows dental implants to last for an impressively long time, along with some tips for maintaining their integrity.
Factors That Influence the Lifespan of Dental Implants
Dental implants are designed to function as permanent solutions for lost teeth, whereas other options like dentures or bridges will inevitably degrade and need to be replaced over time. These options, though effective at replacing teeth, typically only last for 10 or so years while dental implants can easily last for several decades. That said, there are a few primary factors that influence their longevity, such as:
Oral Hygiene – If you have dental implants, maintaining optimal oral health is more important than ever before! Failing to keep your mouth clean can cause issues like gum disease that can quickly progress and threaten your gum tissue and implants alike.
Hard Use – Implants are designed to withstand the common pressures and demands you place on your teeth, so if you're applying uncommon pressure on your teeth, you're increasing the likelihood of damage. For example, chewing on hard objects like ice or using your teeth to open packaging can cause your implants to fail prematurely.
Proper Implantation – You should only have implants inserted by a qualified dentist; poor quality implants or implants that aren't installed properly are more likely to fail.
Osseointegration – After dental implants are placed, the posts gradually fuse with your jawbone; this fusion is responsible for preventing bone loss and supporting your facial structure. If this process is delayed or interrupted, your implants might loosen and fail.
Location – Implants in the front of the mouth tend to last longer than those in the back, due to the amount of pressure that is naturally applied to your back teeth.
Illness & Unhealthy Habits – In some cases, patients who suffer from diabetes or other preexisting conditions are at a higher risk of implant failure. Unhealthy habits such as smoking and drinking can also affect your overall health and in turn, your implants' lifespan.
Tips for Preserving & Maintaining Your Implants
Caring for your implants and setting them up for success is relatively simple! Here are some general tips to help:
Brush your teeth twice a day for two minutes each time using a soft-bristled toothbrush.
Floss daily—flossing is an important habit that effectively mitigates gum disease, which will lead to implant failure!
Avoid poor oral habits such as smoking and tobacco use, using your teeth as tools, and biting into hard objects.
Visit your dentist for regular preventive care; they can also inspect your implants and ensure that they haven't been compromised.
Dental implants can do so much for your smile and quality of life—but only if they last! By knowing what affects their longevity and following these tips, you can rest assured that they'll continue to do their job for several years to come.
About the Author
Dr. S. John Salivonchik has proudly served patients and families in the Lehigh Valley, PA community for several years. Dr. Salivonchik completed his dental doctorate at the Temple Dental School and is an active member of several professional organizations including the American Dental Association and the renowned Academy of General Dentistry. His practice is thrilled to offer a wide range of services including dental implants. If you have any questions about dental implants or would like to schedule a consultation, feel free to contact his practice online or by phone for assistance: (610) 502-1545.