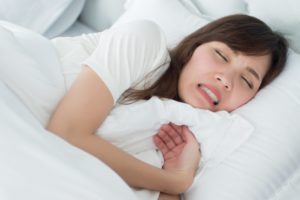 It's been one of those stressful days at work and although you're home, the tension of the day remains. During the night, unbeknownst to you, you're grinding your teeth. By the time you wake up, you've got a splitting headache and your jaw hurts. These are just a few problems you may face if you grind/clench your teeth. Need help? Learn about various solutions from a Lehigh Valley dentist that can keep the pain away!
What is Bruxism?
If you are clenching or grinding your teeth, you have what is called, bruxism (teeth grinding). Individuals who do it occasionally should not experience any lasting damage; however, if you are unaware of the problem or clench your teeth on a regular basis, serious damage can be done to your oral health.
What Kinds of Problems Are Associated with Teeth Grinding?
With teeth grinding comes many problems, which is why it is important to speak to your dentist right away. To learn why it is so important to seek help, here are the kinds of difficulties you could face if left untreated:
Jaw pain: Your jaw muscles can become sore, and if untreated, TMJ disorders can develop, causing your jaw to lock or pop when opening your mouth. Your jawline may also begin to swell.
Teeth Damage: Chronic teeth grinding can cause teeth to fracture or become loose, or worse, it can cause tooth loss. Due to the wearing down of the teeth, your dentist may suggest a bridge, crown, root canal, implant, or dentures (partial or full).
Headaches: When stress builds and you begin to clench your teeth, it can create pressure in your temples which leads to headaches or migraines.
Sleep Disorders: If you have bruxism, it could cause sleep apnea or insomnia. Loud snoring, drowsiness during the day, and even waking up breathless are all symptoms of sleep apnea.
What Are Some Solutions to Help Keep Pain Away?
There is good news if you suffer from bruxism. Your dentist can offer a variety of solutions to help fix the problem. These include:
Using a custom nightguard: These protective barriers are created by your dentist and placed between your teeth so they will not come in contact while you sleep.
Counseling: Too much stress can take a toll on your teeth. Talk to your dentist about seeking help from a counselor. It may also be beneficial to start exercising or getting a prescription for a muscle relaxer.
Watching Your Food/Drink Intake: Teeth grinding can intensify if you are consuming alcohol, so avoid it if you can. Also, cut back on caffeine.
Chewing: It's a bad habit, but try to avoid chewing on pens or other non-food items. Also, gum can cause your jaw to clench, so it's best to just say, "no thank you," if offered a piece.
Who knew teeth grinding could create so many problems? Don't let the stress of your life wreak havoc on your oral health. Talk to your Lehigh Valley dentist about how you can stop grinding your teeth today.
About the Author
Dr. S. John Salivonchik, D.M.D., P.C. is a highly-skilled general, cosmetic, and restorative dentist, he attended Muhlenberg College for his undergraduate degree before completing his Doctor of Dental Medicine at Temple Dental School, graduating Summa Cum Laude. Believing in the importance of continuing education, he regularly attends advanced training and seminars. Contact Dr. Salivonchik or his team at (610) 502-1545 to learn more about the services offered and how we can help!