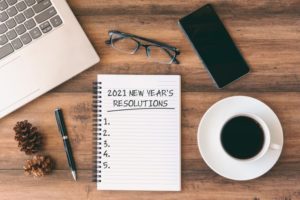 The new year is now in full swing. Maybe you have a list of goals that you want to accomplish this year. Perhaps they're in regards to travel, career, or even physical appearance. Before you sign off on your list, have you considered adding a healthier smile to it? Having pearly whites you can be proud of not only does wonders for your self-confidence and overall quality of life, but it also keeps you healthy in the long run. Your Lehigh Valley dentist has some tips to share that can help you better prioritize your smile this year.
How To Show Your Smile a Little Extra Love This Year
There's no denying that 2020 was a rough year for everyone, and if your dental health got placed on the backburner amidst the chaos, you're not alone. The great news is, it's now a new year, and you have the opportunity for a fresh start! Here are some tips to help you prioritize your oral health and keep your smile looking fabulous:
Stay On Top of Your Oral Hygiene Routine
This is one of the most important things you can do to promote your oral health. If you're like most people, you probably brush your teeth at least once a day, but how often do you floss? Research shows that an alarming 30% of people only floss when they feel something stuck in between their teeth, or just not at all! While your toothbrush cleans the tops and surfaces of your teeth, there are hard to reach places it can't get to. Flossing first helps dislodge particles and plaque to protect your teeth from decay.
Don't Forget to Eat Your Fruits and Veggies
There's a reason why you're encouraged by doctors to make sure you're consuming vegetables and fruits on a regular basis. The vitamins and minerals they contain are crucial to helping you maintain good oral health. Some, like celery, even have such high fiber contents that they can actually help clean your teeth while you eat them.
Minimize Your Sugar Intake
Cutting back on sugar is a popular new year's resolution for a multitude of reasons. In addition to increasing energy levels and trimming down waistlines, it also lowers the risk of cavities developing. The less sugar you eat, the healthier your teeth and gums will be.
See Your Dentist for Routine Checkups
Every time you see your dentist for a routine checkup, they investigate your throat and the soft tissues in your mouth for any signs of oral cancer. The x-rays they perform also show them the condition of your gums and jawbone. The sooner a potential issue is identified, the more treatable it will be, which will save you time and money.
Don't let another month of this new year pass you by without prioritizing your smile. After all, it's one of the first things someone notices when they meet you!
About the Author
If you're searching for a dentist who not only prioritizes your oral health but also your comfort and building long-lasting relationships, then look no further than Dr. S. John Salivonchik. He considers dentistry to be a true art form, and nothing makes him happier than knowing he is able to provide his patients with good oral health. His years of education and training give him the ability to provide the highest quality of care. Are you ready to schedule your next dental appointment? You can request a date and time online or call (610) 502-1545.