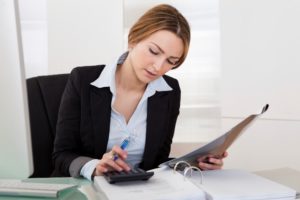 As you start and end your day, you have a routine to care for your smile, but what about when you are at work? Throughout the day, your teeth are constantly attacked by harmful bacteria. Not to mention, you may have some bad habits that can damage your teeth, like chewing on pens. To avoid unexpected news during your next appointment with your Lehigh Valley dentist, there are some simple tips to follow while you are working.

1. Pack Your Toothbrush
The American Dental Association recommends you brush your teeth at least twice a day; however, it is ideal to do it after every meal. You do not need to skip brushing while you are away from home if you bring your toothbrush and floss with you. Purchase travel sizes, so you can stick them in your purse or briefcase.
2. Skip the Junk Foods
It is easy to snack at your desk, but you may want to reconsider the foods you eat. Chips and candy are convenient to grab when you need a quick bite. While they may taste great, they are bad for your waistline and your teeth. Instead, it is better to snack smart on fresh fruits or vegetables. If you pack your lunch, take some low-fat dairy products with you, like cheese or yogurt.
3. Drink Plenty of Water
Water keeps you hydrated throughout the day while also helping to cleanse your mouth in between brushing and flossing. It rinses away food particles and harmful bacteria that can lead to cavities.
4. Stop Chewing
Chewing on pens, pencils, or even your nails is common while at work. Although it may seem harmless, it can damage your teeth. It is best to break the habit as soon as possible. As an alternative, consider chewing sugar-free gum. It is not just safer for your teeth, but it also encourages saliva production to help keep your mouth clean.
5. Rinse with Water
Coffee is a great way to jump start your day, but it can also lead to tooth discoloration. If you cannot skip your morning cup, it is best to brush your teeth afterward. Since that is not always possible while you are working, rinse your mouth with water to help prevent stains.
Work for a Healthy Smile
Although your days are busy when balancing a job, do not let your oral health fall to the bottom of your priority list. You can keep your teeth and gums healthy by making a few simple changes throughout your day. By doing so, you will reduce your risk of unexpected dental complications that can cause you to miss a day of work.
About Dr. S. John Salivonchik
Dr. S. John Salivonchik is a leader for high-quality dentistry in the community. Supported by extensive training and qualifications, he offers advanced services to help his patients achieve optimal oral health. If you need a trusted dentist in the area, get the care you deserve. Contact our office today to schedule your consultation.