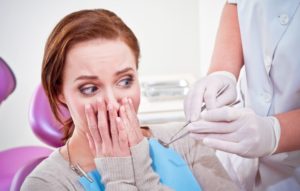 Routine care from your Lehigh Valley dentist is vital to keeping your teeth and gums healthy, which is why the American Dental Association recommends that everyone schedules a cleaning and checkup twice a year. Unfortunately, you have put your care on hold because you suffer from dental-related fears and phobias. Do not worry, you are not alone. In fact, it is estimated as much as 15% of Americans avoid seeing their dentist for the same reason. Now, you can conquer your fear and keep your oral health a priority with simple tips.

1. Communicate with Your Dental Team
If your palms get sweaty and you develop anxieties about visiting the dentist, it is best to let your dental team know that you have a difficult time during your appointments. With clear communication from the beginning, they can aim to stay within your comfort level while working at a pace that will help you remain relaxed.
2. Practice Relaxation Techniques
If you feel that your anxiety is starting to build, there are several relaxation techniques that you can use during your appointment, such as controlled breathing. This will allow you to focus on your breathing instead of what is going on around you. You can also try distraction techniques by listening to music to take your focus away from the dentist.
3. Visit the Office
The fear of the unknown can help to fuel your anxieties. To learn more about what you can expect during your appointment, visit the dental office beforehand. You will have the opportunity to meet the dental team, ask questions about the appointment process, and tour the office to help you feel at ease.
4. Sedation Dentistry
When you need a little extra help relaxing during your appointment, ask your dentist about the benefits of sedation dentistry. With a safe and effective sedative, you will let your fears and anxieties slip away as you sit back and relax during your appointment. Depending on your level of discomfort, there are a few different sedatives that can be used, such as nitrous oxide, oral conscious sedation, or IV sedation. Your dentist will determine which one will best meet your needs to ensure a comfortable visit.
Conquer Your Fears Today!
Do not let dental fears keep you from achieving a healthy, beautiful smile. You can keep your oral health a priority by choosing a dentist who caters to comfort—even for those who have dental-related fears.
About Dr. S. John Salivonchik
Dr. S. John Salivonchik is a reputable and trusted dentist in the community for high-quality dental care. Due to his vast qualifications and experience in the dental field, he has appeared on several news outlets, including CBS 2 New York. He strives to provide patients with individualized solutions to help them reach optimal oral health. He will cater to your comfort and your specific needs while fostering healthy teeth and gums. If you need a dental appointment, choose a dentist who understands your situation. Contact our office today to schedule your appointment.