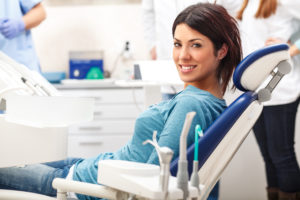 You know that you are supposed to visit your Lehigh Valley dentist twice a year for preventive care; however, you are not comfortable scheduling an appointment. If you are like 15% of Americans, you suffer from dental-related fears and phobias. As a result, a simple cleaning and checkup can be too much for you to handle. As a result, you join more than one-third of Americans who did not see their dentist last year. To help conquer your fear and to keep your oral health a priority, sedation dentistry can help.

How Can Sedation Dentistry Help Me?
Now, many people are turning to a sedation dentist to help them relax. With the use of a sedative, you can sit back comfortably during your appointment without a worry in mind. Sedation is beneficial for many patients who have special requirements, including:
Dental Fears and Phobias: Sedation allows you to reach a high level of relaxation to let your fears and anxieties fade away. You can sit back and relax during your appointments to get the care you need.
Strong Gag Reflex: If you have a strong gag reflex of difficulty keeping your jaw open, sedation dentistry can help to make the visit more comfortable.
Difficulty Laying in One Position: If you have a health condition that makes it difficult to stay in one position, sedation will help you relax during your appointment.
Pain-Free Procedures: If you need multiple or invasive procedures, sedation will help to ensure a pain-free visit. Your dentist can quickly perform the treatments you need without causing you unnecessary pain.
Which Type of Sedation is Right for Me?
Depending on your individual needs, you have a couple of different options. Your dentist will help to determine which type of sedation will best meet your needs.
Oral Sedation
Oral sedation is a prescribed medication that is taken prior to your dental appointment. As it takes effect, you will reach a high level of relaxation. In fact, you may even fall asleep; however, you will remain conscious to respond to the dentist's verbal ques. After your procedure, the effects will wear off quickly without any lingering side effects.
IV Sedation
If you need an invasive procedure, IV sedation may be recommended. The sedative is delivered intravenously, which also provides the dentist with a greater ability to control the amount that is delivered. You will drift off into a rest full sleep and will be easily awakened after your treatment.
Sit Back and Relax
If you have been putting your dental care on hold, you can get the treatment you need with sedation dentistry. Sit back and relax with your sedation dentist today!
About Dr. S. John Salivonchik
Dr. S. John Salivonchik strives to provide his patients with superior dental care while keeping their comfort in mind. He offers multiple options for sedation dentistry to provide a stress-free and pain-free office visit. If you need help relaxing during your appointment, contact our office today to see if sedation dentistry is right for you.