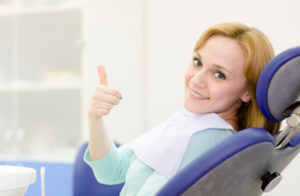 Do you need a dental crown but just do not have the time for multiple lengthy appointments? Maybe you dread the taste and discomfort of the impression process? No matter the reason behind your delay getting the restoration you need, you can now benefit from a convenient and comfortable approach with CEREC technology. CEREC allows you to get the crown you need in just one day without the use of traditional impressions. As your Lehigh Valley dentist, Dr. John Salivonchik offers this advanced technology to enhance your care and comfort.

Benefit from a Convenient Solution
Often, when you need a dental crown, it is common to have dismay about the process. With the traditional method, you would need to come in for your initial consultation. After a treatment plan is created, you must come in for another appointment to have your tooth prepared.
Once your tooth has been reshaped, a messy, foul-tasting, and uncomfortable impression material is placed in your mouth. This creates a challenge for people who have a strong gag reflex or severely damage teeth, but it is vital to making the restoration.
After the impression is complete, a temporary crown is attached while you have to wait a couple of weeks for the dental lab to make your restoration. Once your cap is ready, you must come back for another appointment to have it bonded to your tooth.
With this lengthy and inconvenient process, it is no wonder you do not look forward to the treatment. Thankfully, you can now benefit from a far simpler process with CEREC. After your consultation, you will come into our office to have your tooth prepared. Instead of using a messy impression, 3D digital images are taken of your tooth. They are then sent to our in-office CAD/CAM software.
We customize the specifics of your crown in our office for accuracy and a precise fit. Your crown will meet the exact size, shape, and color preferences you need. Then, we send this information to our in-office milling machine. In about an hour, the machine creates your permanent crown from a single block of ceramic material. In just one appointment, you will walk out of our office with the high-quality restoration you need.
There is no longer a need for messy, uncomfortable impressions or the hassle of temporary crowns. In just one day, the entire processes complete, allowing you to benefit from a simple and convenient treatment.
Choose Same-Day Dentistry
We understand that your time and comfort are important, which is why we offer our patients CEREC crowns. Although the restoration is created in just one day, rest assured it is of the highest quality for durability and reliability. Now, you can get the crown or onlay you need during your lunch break.
If you are ready to stop dreading the restoration process, it is time to choose same-day crowns with Dr. Salivonchik. Contact our office today to schedule your consultation for CEREC.