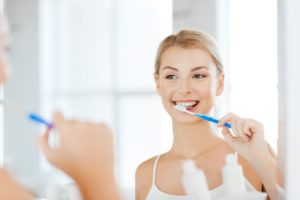 It is no secret that life can get pretty busy. After a long day, it is easy to climb into bed without brushing your teeth or flossing. Although skipping one or the other occasionally may not seem like a big deal, it can lead to unfortunate news next time you see your Lehigh Valley dentist. Despite your daily commitments and responsibilities, there are a few dental habits you should never ignore if you want your teeth to serve you for a lifetime.

3 Tips to Boost Your Oral Hygiene
Brush Twice a Day
Your dentist recommends you brush your teeth twice per day for at least 2 minutes each session using a soft-bristled toothbrush and fluoride toothpaste. Unfortunately, only 7 out of 10 Americans brush their teeth twice a day. Not to mention, 30% of adults do not brush their teeth long enough. In fact, the average American only brushes for 1 minute and 52 seconds.
Skimping proper brushing habits leaves harmful food particles, plaque, and bacteria on your teeth, increasing your risk of tooth decay. If you have a bad habit of skipping brushing before bed, consider leaving your toothpaste on your nightstand to help you remember.
Floss Daily
Flossing removes bacteria, plaque, and food debris left behind by your toothbrush. It is best to floss your teeth at least once per day. It makes no difference whether you do it at night or in the morning, but if you are failing to floss daily, you are leaving as much as 40% of your teeth's surfaces uncleaned. This significantly increases your risk of gum disease.
If you are among the 6 out of 10 Americans who do not floss daily, it is never too late to get into the habit. Incorporate it into your nightly routine even if that means getting ready for bed a few minutes earlier.
Visit Your Dentist
Besides your home oral hygiene habits, regular care from your dentist is equally important. The American Dental Association recommends you see your dentist twice a year for a cleaning and checkup. Although routine appointments lower your long-term dental costs, one-third of Americans delay their semi-annual visits.
You can reduce your dental costs by keeping your teeth and gums healthy. In fact, every $1 you spend on prevention can save you $8 to $50 on restorative or emergency services. If you have a difficult time remembering to schedule an appointment, book your annual visits in advance and ask your dentist for a courtesy reminder call.
Promote a Healthy Smile
It is never too late to commit to a healthy smile. If you have had less than perfect oral hygiene habits it the past, invest in a healthy smile this year.
About Dr. S. John Salivonchik
Dr. S. John Salivonchik has made it his life's mission to help his patients achieve optimal well-being through superior dental health. With a focus on prevention, he works to ensure your teeth and gums stay healthy. If it has been more than 6 months since your last visit, contact our office today to schedule your cleaning and checkup.