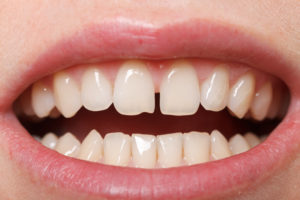 You dread family pictures. No matter how it turns out, your eyes are always drawn to the very visible gap between your teeth. Are you tired of always feeling self-conscious about your smile? Luckily, your Lehigh Valley cosmetic dentist has several options they can use to address this problem. Here are 3 treatments that can help you say goodbye to the gap!
1. Direct Bonding
For small cosmetic corrections, direct bonding can be the quickest, most conservative option. A small amount of composite resin can be applied to the tooth to fill in empty space; this usually works best if the gap is fairly small to begin with. The material usually lasts about 4 to 8 years.
The procedure is painless and efficient, usually taking about an hour without the need for anesthesia. The end result is usually very natural looking, as the resin is shaped and shaded to blend in with the natural tooth. However, if the gap is too large, bonding might end up standing out in the mouth; your dentist will be able to judge the distance and determine the best solution.
2. Porcelain Veneers
Veneers are thin shells that adhere to the front of the tooth. Not only can they be used to close gaps, but they also cover up various other cosmetic issues such as cracks, discoloration and misshapen teeth. In general, porcelain veneers are more durable than the resin used in cosmetic bonding; not only are they harder to damage, but they're also resistant to stains. They also have a longer lifespan that's typically around 7 to 15 years provided you stay in good oral health.
3. Invisalign
Sometimes gaps in your teeth will require orthodontic treatment to address. Traditional metal braces are an option, of course, but most adults and teenagers will have concerns about how their appearance will be affected. Luckily, there's an alternative in the form of Invisalign, which uses clear plastic trays to move the teeth over time; it's a great way to discreetly make corrections to your smile.
Invisalign has several other advantages over braces. For one thing, the trays are removeable, so they won't get in the way when you're eating or brushing your teeth. The treatment is also usually faster (between 6 and 18 months) and requires fewer trips to the dentist. Overall, Invisalign can be a very image-friendly and convenient choice.
So which of these methods is right for you? The best answer will vary from patient to patient depending on the size of the gap, the state of your oral health, or other cosmetic corrections you want to make. Tell your cosmetic dentist exactly what you're looking for so that they can help you set reasonable expectations. Don't miss out on the chance to get the improved smile you've always wanted!
About the Author
Dr. S. John Salivonchik became a dentist so that he could use his talents in artistry and science to help people. He loves the opportunity to improve smiles, whether it's by restoring damaged or broken teeth or by correcting gaps and other cosmetic issues with treatments such as direct bonding and porcelain veneers. To schedule an appointment at his practice, visit his website or call (610) 502-1545.