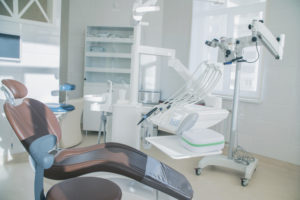 The COVID-19 pandemic has radically changed the definition of "normal" for many aspects of our lives. Even your next dental appointment will look very different than any you've had before! In order to keep you safe from the coronavirus while providing the dental care you need, your dentist has established a variety of new dental safety and infection control protocols. Read on to find out what you can expect before, during, and after your next visit with your Lehigh Valley dentist.
Before Your Appointment
Your dental team is working hard to safeguard your health before you even arrive for your appointment. Every team member has completed additional training on COVID-19 awareness and prevention to ensure they are ready and prepared to keep you healthy. They've also made several changes to the reception area, including installing clear plastic barriers, removing the magazines and toys, and offering fewer chairs. However, instead of spending time in the reception area before your appointment starts, you'll be asked to check-in from your car. This limits how many people are in the office at one time and allows you to go directly to your examination room.
During Your Appointment
Your dental appointment will start out with a quick health questionnaire and a no-touch temperature check. Then, you'll be asked to disinfect your hands with the provided hospital-grade hand sanitizer. When you see your dentist and dental team, you'll notice that they look a little different than they did at your previous appointments. They've enhanced their working wardrobes with additional personal protective equipment like N95 and ASTM level three masks, face shields, and disposable coats. While these items may seem a little unusual at first, they play a key role in preventing the spread of germs.
After Your Appointment
While your dentist and dental team are excited to welcome their patients back, they're not scheduling as many appointments as they used to. If you need to make a follow up appointment, you'll be offered fewer options than before the pandemic. This sequenced patient scheduling allows more time for coming, going, and cleaning. In some cases, your follow-up visit will utilize teledentistry to reduce how many times you need to visit the office. Teledentistry uses a secure patient communication portal so you can see and speak to your dentist virtually from the comfort of your own home.
While the COVID-19 pandemic has changed what "normal" dental visits look like, it hasn't changed your dentist's dedication to your overall wellbeing. These extra infection control protocols help your dentist keep both you and your smile healthy when you need it most.
About the Author
Dr. S. John Salivonchik has over two decades of helping people achieve and maintain the happy, healthy smiles they've always wanted. His Lehigh Valley practice is equipped with state-of-the-art dental technology that he uses to provide a variety of precise, comfortable, and personalized dental treatments. In these unusual times, he continues to prioritize the safety, comfort, and wellbeing of his patients by closely monitoring the COVID-19 pandemic and adjusting his infection control protocols accordingly. If you'd like to learn more about what he's doing to keep his patients, staff, and community safe, feel free to contact him via his website or at (610) 502-1545.