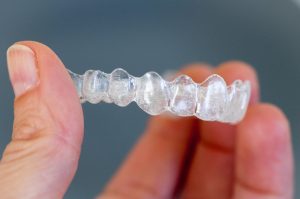 The alignment of your teeth plays a vital role in your confidence. However, properly aligned teeth are also important for your dental health as they are easier to clean. If you are among the 65% of adults who do not have a straight smile, you have probably considered orthodontics. Now, various advancements have made orthodontic treatments less noticeable than ever before. With options like Invisalign, one in five orthodontic patients are now adults. As your dentist in the Whitehall area, Dr. Salivonchik offers the clear aligners to straighten your teeth.

How Does Invisalign Work?
Unlike traditional braces, Invisalign does not use any wires or brackets to move the teeth. Instead, clear aligners are worn over the teeth, which gradually move them into position. After performing an initial consultation to ensure you are a candidate for Invisalign, images and scans are taken of your teeth. These are used to create a series of custom-made aligners.
Your aligners are created in a series. You wear each aligner for about two weeks. As you progress through each one, your teeth will gradually move into position from the controlled pressure placed on the teeth. On average, it takes about 12 months to complete the treatment. You will briefly need a retainer to prevent your teeth from moving back into their previous positions.
What are the Benefits of Invisalign?
When choosing Invisalign near Whitehall, you can remain confident throughout your treatment because no one will notice you are wearing the aligners. Since no wires or brackets are used, you benefit from added comfort as well. The aligners offer a custom fit, so there is no slipping or irritation to the gums. The smooth surface of the aligners means there is nothing protruding into the lips or cheeks to cause irritation.
When compared to traditional braces, Invisalign offers far more convenience and freedom. Metal braces cause you to have dietary restrictions because of the wires and brackets. Plus, cleaning around the braces is a challenge. Since the aligners are removable, both these issues are resolved. You will have no dietary restriction as you simply remove the aligners when eating and drinking. In addition, the easy removal makes caring for your teeth and the aligners simple.
You will also enjoy a faster, convenient treatment. Traditional braces require you to visit the dentist regularly for adjustments. You do not need adjustments with Invisalign. However, you will still need to see us every few weeks so we can monitor the progression of the treatment. On average, your treatment length will also be shorter than that of metal braces so you will have a new, straight smile sooner.
Where Can I Get Invisalign?
If you are ready for a straight smile using the most preferred treatment, it is time to call our office to schedule your consultation with Dr. Salivonchik. He will perform the consultation necessary to ensure you are a candidate for Invisalign. Using a customized treatment plan, you will have a confident, healthy smile. Start your journey to a straight smile today with Invisalign.