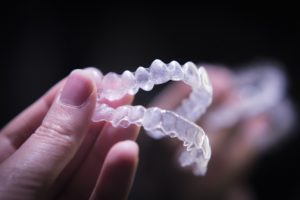 Are you ready to improve your oral health and confidence with orthodontics? You are making a wise investment in your smile. With Invisalign, now is the perfect time to straighten your teeth. The clear aligners provide the sophisticated approach you need while also offering convenience. However, while they are effective for correcting an array of bite and alignment issues, they are not right for everyone. To feel confident about your choice, Dr. S. John Salivonchik recommends that you ask your dentist certain questions prior to committing to the treatment.

Get a Straight Smile with Invisalign
Invisalign provides a nearly invisible solution to straighten your teeth by using clear aligners. The FDA-approved treatment uses impressions to create a series of aligners. They are worn over your teeth to gradually move them into position. When compared to traditional braces, they are discreet and comfortable because no wires or brackets are used. As a result, they are less restrictive and more convenient without compromising the quality of the results you will achieve.
They can be used to treat a diversity of alignment and bite issues; however, they are not right for everyone. If you have severely tipped, gapped, rotated, or tilted teeth, you may need another option. Dr. Salivonchik will provide the consultation you need to ensure that you are a candidate for the treatment. During your appointment, he will take the time to answer your questions for your peace of mind.
Learn the Facts about Invisalign
Prior to undergoing treatment, you need to feel at ease with your decision. To gain a full understanding of how the aligners work and what you can expect, ask your dentist in the Lehigh Valley:
How do the aligners move my teeth and how long will it take?
Since I do not need wire adjustments, do I still need to visit the dentist during the treatment?
What happens if I break one?
How much can I expect to pay for the aligners and will my insurance cover it?
How soon will I start to see results?
Do I need a retainer afterward?
Living with Invisalign
Invisalign has quickly become the preferred treatment among adults because it is convenient and offers more flexibility than traditional braces. However, you must be committed to making certain changes to your daily routine. To ensure your lifestyle will accommodate the aligners, you may want to ask:
How long do I have to wear the aligners each day?
Will I have eating restrictions throughout my treatment?
Can I eat while the aligners are in place?
How do I clean the aligners?
Will it be difficult to speak with them?
Can I wear them while playing sports?
Can I still play a musical instrument?
Choose the Clear Choice
If you are ready to commit to healthy, straight teeth, it is time to see if Invisalign is right for you. Dr. Salivonchik will provide the comprehensive consultation you need to start your journey to a straight smile. Contact our office today to schedule your consultation. Dr. Salivonchik is more than happy to answer any questions you have to ensure that it is right for you.