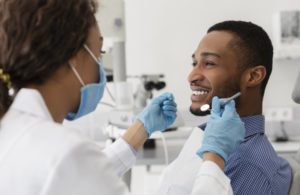 Most of the time, when you visit your dentist for a checkup and cleaning, they're the one asking you the questions. They might ask you how often you floss or what kind of toothpaste you use, for example. But in order to have a truly healthy mouth, you, the patient, should be educated about oral health as well. To make the most of your dental visit, ask your dentist in Lehigh Valley these six questions at your next appointment.
1. How Can I Improve My At-Home Oral Hygiene?
While routine cleanings are necessary to keep your smile healthy, they're only half the battle. It's equally important to clean your mouth in between appointments. Ask your dentist if they can recommend any particular kind of toothbrush, toothpaste, mouthwash, or other at-home oral care products. Additionally, you could ask whether you need to brush, floss, or rinse more often.
2. How Often Should I Have a Checkup and Cleaning?
Most people need a checkup every six months, but everyone is different. People who smoke, are pregnant, or have certain medical conditions like gum disease, cancer, or diabetes typically need to attend more frequent cleanings. Your dentist can tell you how often you should visit.
3. How Can I Keep My Teeth White?
White teeth are typically associated with youth, beauty, health, and success. Your dentist may offer cosmetic services, such as professional teeth whitening, to help you achieve this look.
4. Am I Grinding My Teeth?
Some people grind their teeth while sleeping. Known as bruxism, this condition can wear down your teeth over the years. Dentists can detect signs of bruxism and prescribe a custom-made nightguard to place a protective barrier between the top and bottom teeth.
5. Should I Change My Diet?
What you eat can significantly impact your oral health. Your dentist may suggest cutting back on sugary items that cause cavities. They might recommend more mouth-healthy options, such as calcium-rich dairy products.
6. What Are Your Financing Options?
It's always important to understand how you're going to pay for your dental care. If you have dental insurance, it's best to see a dentist who accepts your policy. Even better, find a dentist who offers additional financing options to help fund whatever treatment you may need.
These questions will not only help you make the most out of your dental appointments, but they'll give you a chance to get to know your dentist better. It could help you build a strong doctor-patient relationship that lasts for years to come!
About the Author
Dr. S. John Salivonchik is a dentist in Lehigh Valley, PA who graduated summa cum laude from the Temple Dental School with his Doctor of Dental Medicine degree. He keeps up with the latest advancements in dentistry through his memberships with many professional organizations, including the American Dental Association, the American Academy of Cosmetic Dentistry, and the American Academy of Implant Dentistry. His practice accepts most dental insurance plans and offers third-party financing through CareCredit. To begin building a relationship with a dentist who cares, contact Dr. Salivonchik at 610-502-1545.