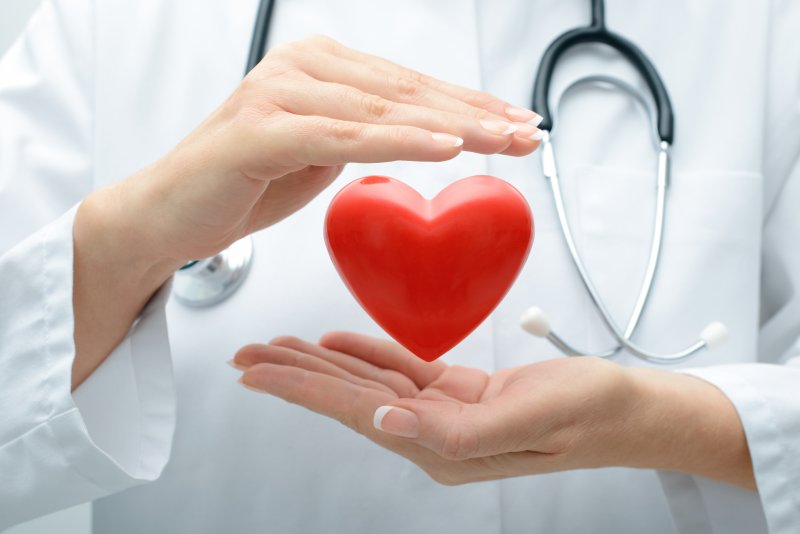 With February's arrival, you may be thinking of romance and relationships. After all, Valentine's Day is coming up soon. Still, love isn't the only "matter of the heart" you should focus on right now. February, you see, is also known as American Heart Month! It's thus a time to value heart health, a part of good living. To help you do so, your Coplay dentist is here with guidance. Read on, then, to learn the mouth-heart connection, its effect on gum disease, and oral tips for your ticker.
The Mouth-Heart Connection
At first glance, it's easy to assume the mouth and heart don't relate much to one another. Besides eating and nutrition, what connects the two? Well, the truth is that your mouth's health impacts your heart. Oral conditions tend to hurt the old chest muscle.
Unfortunately, harmful mouth bacteria won't just stay in your oral cavity. They might enter your bloodstream and, from there, travel to your heart. The microbes could then attach to certain areas and cause inflammation. Should that happen, you'd likely suffer heart problems – strokes, clogged arteries, etc.
Gum Disease & Heart Disease Risk
More than any other mouth issue, gum disease puts you at serious risk of heart disease. The odds grow even worse if the infection is undiagnosed and unmanaged.
Bacteria associated with infected gums could attach to blood vessels. In doing so, they'd elevate C-reactive proteins that mark heart inflammation. You'd then experience a greater chance of heart attacks, high blood pressure, and even congestive heart failure.
Heart-Healthy Oral Care Tips
Thankfully, it's possible to prevent (or at least manage) gum-related heart challenges. To do so, just practice the following tips:
Remember Oral Hygiene – Brush your teeth twice daily and floss them once daily. That way, you can protect against gum disease and its heart effects.
See Your Dentist – Make sure to attend regular dental checkups and cleanings. Doing so lets your dentist diagnose and fix issues that could spread to your heart.
Avoid Bad Oral Habits – Since tobacco elevates gum disease risk, try not to smoke or chew it.
Know Relevant Signs – If you start to have bleeding gums or constant bad breath, get dental help immediately.
As you can see, healthy gums and teeth offer surprising boosts to heart health. That being the case, remember the tips above as you honor this American Heart Month!
About the Practice
Dr. John Salivonchik is a dentist in Coplay, PA, having earned his DDM from the Temple Dental School. He's also a member of the American Dental Association and the Academy of General Dentistry. Given this background, his specialties are preventive, cosmetic, and restorative treatments, as well as emergency dental procedures. Dr. Salivonchik currently practices at his self-titled clinic and can be reached at his website or by phone at (610)-502-1545.