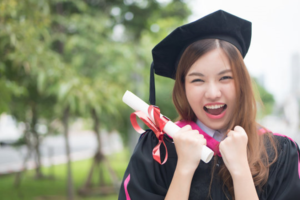 If someone close to you is finally about to graduate from high school or college, you're probably feeling pretty excited for them entering the next chapter of their life. You might also be wondering if there's anything you can give them that'll set them up for success—and there is! You could consider gifting them a winning smile with the help of their cosmetic dentist. Here's more about how cosmetic dentistry can directly benefit graduating students, along with some awesome options worth considering and some jobs that directly benefit from having a bright smile.
Cosmetic Treatments Perfect for Graduating Students
When it comes to making lasting first impressions and positive experiences in the professional world, a healthy and bright smile is one of the most important tools at your disposal. Your smile is the first feature that people will notice about you, and it relays a sense of confidence and pride that can go a long way in certain jobs and fields. Needless to say, this can absolutely benefit graduating students entering the workforce—which is where cosmetic dentistry comes into play.
Here are a few examples of some popular and accessible cosmetic treatment options that can guarantee promising results for the graduate in your life:
Teeth whitening – Professional teeth whitening can whiten teeth by up to several shades; just be sure to undergo treatment before graduation!
Porcelain veneers – These are one of the most flexible and versatile treatment options around, capable of addressing a wide range of issues including chips, cracks, gaps between teeth, staining, and more.
Direct bonding – This treatment is well-suited for minor aesthetic issues, and it's incredibly quick and easy to carry out. A composite resin is used to expertly mask flaws in teeth.
Jobs That Benefit from Having a Bright & White Smile
Did you know that several types of careers strongly benefit from having a healthy and bright set of teeth? Here are some examples:
Attorneys and others in the legal field
Teachers, professors, and coaches,
News anchors, meteorologists, and talk-show hosts
Television and film stars, content creators, and social media influencers
Restaurant and hospitality staff
Beauticians, hairdressers, and salon owners
Businesspeople, salespeople, and consultants
Repairmen, freelancers, and contractors
A healthy and bright set of teeth can communicate several positive traits that people find desirable, including confidence, cleanliness, and kindliness, which are all traits you should want the graduate in your life to proudly exhibit! Cosmetic dentistry can easily help them do this.
About the Author
Dr. S. John Salivonchik has proudly served patients in the Lehigh Valley community for over two decades, and he'd be honored to help you and your family achieve optimal oral health coupled with stunningly beautiful smiles. His practice is thrilled to offer a wide range of services including several cosmetic treatment options. If you have any questions about the blog or you know someone who's about to graduate and could benefit from cosmetic dentistry, feel free to contact the practice online or over the phone for additional information or assistance. Telephone: (610) 502-1545.