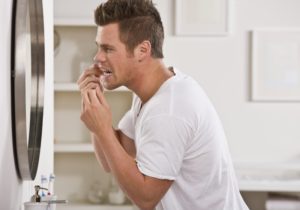 Do you floss? If you answered yes, that's great because it's really important to be an essential part of your daily regimen for healthy teeth and gums.
Do you floss correctly? Not sure? Well, improper flossing is not helpful at all to the oral health cause, so keep reading to learn some common flossing mistakes from a dentist in Lehigh Valley.
Not Flossing the Entire Tooth
There's more to it than just flossing between your teeth. Make sure to wrap the string around the side surface of each tooth, as well. You need to slide the floss up and down while rubbing the back of the tooth. This technique makes sure no food particles or other debris sneak past you to become plaque.
Using the Wrong Type of Floss
There are different types of floss and it's important to find the one that most effectively cleans your teeth and gums. Factors to consider are the amount of space between your teeth, whether or not you have dental restorations, and if you are dealing with gum issues. Use a floss on the thinner end of the scale if you have teeth especially close together or have dental work. If you have larger gaps or gum problems, a thicker string can help in cleaning.
Getting the Routine Out of Order
There is an ideal protocol when it comes to brushing and flossing. One study found that flossing before brushing can significantly lower the amount of plaque between your teeth. When small spaces are cleaned first with floss, fluoride from the toothpaste can follow and coat the cleaned areas for better protection against tooth decay.
Picking the Wrong Time to Floss
It may seem like it's always a good time to floss since it's so important but be sure to target your efforts specifically right before bedtime. Flossing once per day is appropriate when you are doing a thorough job, and it is most important to remove all food debris right before you go to sleep since your saliva flow will decrease and leave you more vulnerable to bacteria if you don't clean between teeth effectively.
Not Flossing Frequently Enough
The last point established that flossing once daily will do the job, but the key in this regard is to make sure you stay with the daily schedule and don't skip opportunities. Even if you brush your teeth for two minutes and rinse with mouthwash, if you aren't working dental floss into the mix, you are still going to have some degree of food debris in your mouth after meals. Get in the habit of grabbing the floss before bedtime so you are doing it without even having to think about it.
As you can see, mistakes made with flossing can involve technique but it's just as important that you are consistent about making sure it gets done every single day – or evening, as it turns out. By avoiding these mistakes, the successes will stack up in favor of your oral health!
About the Author
Dr. John Salivonchik always liked the idea of working with his hands while combining artistry, creativity, and science to help people. That led him on the educational journey to dentistry and he hasn't regretted the decision for a second. Dr. Salivonchik is a member of several professional organizations including the American Dental Association and the Academy of General Dentistry. He's glad you are flossing, but by avoiding the mistakes mentioned above, you can make sure you are maximizing the effectiveness of your oral care routine. You can schedule a professional exam and cleaning to round out your toothcare efforts by visiting his website or calling (610) 502-1545.