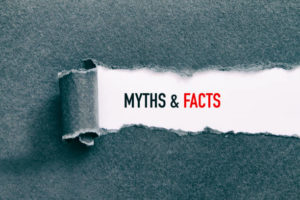 If your dentist has recommended a root canal to save your tooth from extraction, don't panic! Let's face it, root canal therapy has a bad reputation for being painful, but much of what you've heard about the procedure probably isn't true. Don't let false information cost you your tooth. Here are the facts behind 5 root canal myths you need to know to make the best decision for your smile.
Myth #1: Root Canals Delay the Inevitable
Fact: A root canal will save your tooth from extraction.
A root canal is often thought to be a temporary solution to delay needing to have a tooth removed, but this couldn't be further from the truth.
Root canal therapy is designed to serve as a lifelong solution to restore the health of a tooth. With a qualified dentist performing the procedure and the right aftercare routine, you will never have to worry about your tooth needing to be removed.
Myth #2: Root Canal Therapy is Painful
Fact: You won't feel anything during the procedure.
Believe it or not, root canals are pain-free, thanks to the latest techniques and technologies in dentistry. Your dentist will use a local numbing agent to block any pain during your procedure.
While you won't feel anything during your treatment, your mouth may be a little tender for a couple of days after the effects of any numbing agents dissipate. You can manage it using an over-the-counter pain reliever and eating soft foods.
Myth #3: Root Canals Aren't Successful
Fact: Root canals are proven effective.
Root canals have over a 95% success rate. They are proven effective when performed by a qualified and experienced dentist. Choosing the right dentist ensures your tooth is properly disinfected and sealed to promote the long-term success of your procedure.
Myth #4: Root Canal Therapy is Expensive
Fact: Your dental insurance will lower the cost.
You can use your dental insurance to lower the amount you'll pay out-of-pocket. Your benefits may cover your consultation and diagnostic imaging. After meeting your annual deductible, your insurance can pay 50% to 80% of the cost of the procedure, depending on your policy. If there's any remaining balance, many dentists offer payment plans using a third-party financing company, like CareCredit.
Myth #5: You Have to Be in Pain to Need a Root Canal
Fact: Pain isn't the only sign of needing root canal therapy.
A relentless toothache is often a sign of an infection, which will require a root canal to treat. However, that's not the only indicator of needing a root canal. Your dentist will make their recommendation based on an examination, including x-rays, and your symptoms. They don't rely on pain alone to determine if a root canal is necessary.
Your dentist will explain everything during your consultation and address any concerns. You'll have the information and peace of mind you need to make an educated decision for your smile.
About Dr. S. John Salivonchik
Dr. Salivonchik earned his dental degree at Temple Dental School and has regularly pursued advanced education in many specialties, including laser dentistry, dental implants, and Invisalign. He is a reputable dentist who is a member of many professional organizations, including the American Dental Association. Request an appointment through our website or call (610) 813-2855.