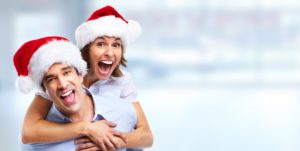 The holidays are a fun time of year as you shop for the perfect gifts and spend time with your loved ones. Besides the decorations, hot cocoa, and bright lights, the sweet treats are just another reason to love the season. Although it can be difficult to resist candies, cakes, and cookies, your dentist in the Lehigh Valley recommends you think twice before reaching for a sugary snack. Don't worry. You can still enjoy the holidays without ruining your smile by keeping a few simple tips in mind.

Healthy Holiday Tips
Although it may only be a few weeks out of the year, the holiday season can have long-term consequences for your smile if you aren't careful. The foods and drinks you choose can help or hurt your teeth and gums. Make sure you start the new year with a healthy smile by following these easy tips:
Add Dessert to Dinner: You have always heard you need to finish your dinner before you can have your dessert, right? You might be surprised to learn it's better to have your dessert with your dinner. While you eat, you'll have excess saliva in your mouth, which cleanses your teeth to prevent harmful sugars from lingering on your teeth.
Stay Hydrated: Drinking plenty of water isn't just good for your body. It's also good for your mouth. Water helps remove trapped food particles and cavity-causing bacteria from your teeth in between brushing and flossing.
Grab Some Cheese: Low-fat cheese is a great source of calcium and phosphate, which are essential to maintaining the right pH balance in your mouth and keeping your teeth strong. You'll preserve your enamel and kill harmful bacteria by choosing cheese instead of a sweet snack.
Grab Crunchy Fruits & Vegetables: Crunchy fruits and vegetables act like a scrub brush for your teeth to remove biofilm when you can't get to your toothbrush. Carrots, celery, and even apples are excellent for washing away plaque.
Get Some Rest: A good night's sleep is important for your overall health and wellness, including your smile. It's best to get at least 8 hours of sleep each night.
Maintain a Healthy Smile
There's no doubt the next few weeks are going to be busy, but it's important to be proactive about your oral health. Be sure to brush your teeth at least twice a day and floss every night before going to bed. If you plan on traveling, create a small oral care kit to take with you. This makes it easy to maintain your smile while you're away from home. Don't forget to visit your dentist for a cleaning and checkup. You'll start the new year with a healthy, beautiful smile.
About Dr. S. John Salivonchik
Dr. S. John Salivonchik has helped patients from all walks of life achieve their oral health goals for the last 20 years. He specializes in general, cosmetic, and restorative dentistry to ensure all your needs are met from one location. If it's time for your next preventive visit, contact our office today to schedule an appointment.