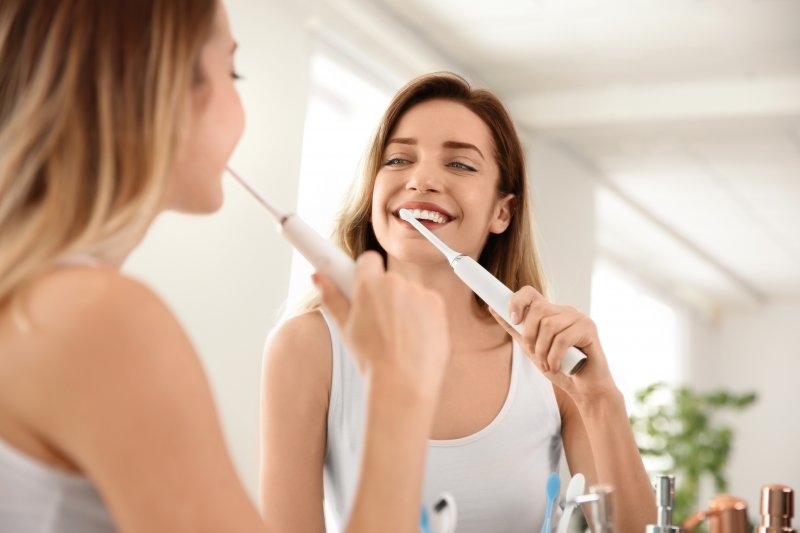 This month is about more than just Halloween. October is National Dental Hygiene Month. By being are and committing to oral hygiene, your smile will thank you. Even if you are the most adamant brusher and flosser in the world, there are likely still ways that you can improve your oral hygiene routine. Your dentist in Lehigh Valley shares some tips that can help you work towards and maintain a healthy smile.
Brush Properly Twice a Day
You know that you're supposed to be brushing your teeth twice every single day, but many people still neglect to clean their teeth before going to bed. If you aren't brushing, you're leaving bacteria and plaque in your mouth which can lead to increased decay, gum disease, and halitosis. Remember to use proper technique. With a soft-bristled toothbrush and fluoridated toothpaste, use gentle, circular motions for the most effective clean.
Floss Daily
Many people out there who brush everyday neglect to take the time to floss. This is an issue because your toothbrush cannot reach all of the surfaces of your teeth. Using floss helps to remove food debris and plaque from between the teeth and beneath the gumline, therefore preventing decay and inflammation of the gums.
Use Mouthwash
Mouthwashes help your smile in three different ways. It reduces the amount of acid in the mouth, cleans hard to reach areas, and remineralizes the teeth. This is not a substitute for regular brushing and flossing but can make a great addition to your regimen.
Stay Hydrated
Water is necessary for your whole body, including your smile. Try drinking a glass of water after every meal in order to wash away food debris and harmful acids in the mouth. This is a great way to limit the destructive effects of acidic and sticky foods and beverages between brushes.
Watch What You Eat
Sugar converts into acid in the mouth which erodes your enamel and can lead to cavities. Also be careful about acidic fruits, teas, and coffee. Male sure you include crunchy fruits and vegetables in your diet as well. Apples, carrots, and celery can all help to stimulate saliva production in the mouth which will neutralize harmful acids and wash away food particles.
See Your Dentist
Even if you are the most adamant brusher in the world, there are still going to be areas in your mouth that you miss. By going in for regular cleanings and checkups, you will have plaque and tartar buildups removed. Your dentist will also check for existing decay and signs of other oral health issues like periodontal disease and oral cancer.
This October, don't forget to focus on your smile. By taking these steps, you will be able to end the month with better oral health than ever before.
About the Author
Dr. S. John Salivonchik is a well experienced dentist who has been working in the field for over two decades. He earned his Doctor of Dental Medicine from Temple Dental School where he graduated Summa Cum Laude. Dr. Salivonchik is a member of numerous professional organizations including the American Dental Association and the Academy of General Dentistry. For more information on dental hygiene or to schedule an appointment at his office in Coplay, visit his website or call (610) 502-1545.