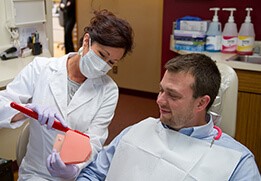 In addition to your home oral hygiene habits, the American Dental Association recommends that everyone visits their dentist twice a year for a cleaning and checkup. Unfortunately, 32% of adults skipped their routine appointments in 2016. All too often, it is believed that you do not need to see your dentist in the Lehigh Valley until after a problem develops, but this is not true. Regular appointments allow you to prevent certain issues from developing, like tooth decay and gum disease. As a result, you will keep your smile healthy while reducing your long-term costs for care.

Protect Your Dental Health
Even with the best brushing habits, there are still areas in your mouth where bacteria and plaque can accumulate, eventually leading to a cavity. With 92% of adults having had at least one in a permanent tooth, there is a real risk for one developing if you do not have your teeth cleaned regularly.
In addition to tooth decay, regular cleanings are vital for preventing periodontal disease, an infection that develops in the gum tissue. Although it is preventable, the Centers for Disease Control and Prevention estimates at least 50% of adults have a form of the infection. Not only will it wreak havoc on your dental health, but it can also impact your general health. You will have a heightened risk for cardiovascular disease, respiratory infections, and even Alzheimer's disease.
Reduce Your Dental Costs
During your routine visits, your dentist will also perform a comprehensive checkup. This allows your dental health to be monitored to detect concerns early. With quick treatment, you will lessen the need for an invasive or costly treatment in the future. This helps to reduce your long-term dental costs. In fact, it is estimated that every $1 spent of preventive care can save your $8 to $50 in restorative and emergency treatments.
By keeping your smile healthy, you will help to prevent other financial burdens as well. Often, dental emergencies will result from leaving issues untreated, like tooth decay. In 2013, there were roughly 2 million visits to local emergency rooms due to dental pain.
Unexpected dental problems can also cause you to miss work. According to a poll by the University of Michigan, one-third of adults have missed work due to dental problems.
Invest in Your Smile
Although you may not feel that you need to see a dentist regularly, there are clear benefits of semi-annual appointments. You can make a true investment in your smile and your quality of life by seeing your dentist twice a year for a cleaning and checkup.
About Dr. S. John Salivonchik
Dr. S. John Salivonchik is a reputable dentist in the community for high-quality dental care. With a focus on prevention, he helps his patients reach and maintain healthy smiles. If an issue does arise, he offers advanced treatments to restore your oral health. If it has been more than 6 months since your last visit, do not put your dental health at risk any longer. Contact our office today to schedule your appointment.