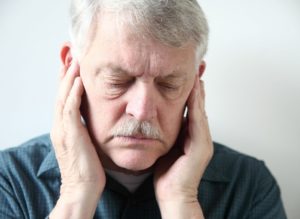 Do you often live with a stiff or sore jaw? Maybe it clicks or pops when you open and close your mouth? You could suffer from a disorder of the temporomandibular joint, known as a TMJ disorder. When the joint that connects your jaw to your skull functions improperly, it can lead to an array of symptoms that can impact your ability to perform simple tasks, like chewing. You can get the relief you need with the help of your dentist in the Lehigh Valley.

What is a TMJ Disorder?
Your temporomandibular joint allows you to move your jaw with ease to chew, speak, and even yawn. It is unique from other joints in your body because it involves a rounded protrusion of the lower jaw. It sits in an indentation of the skull supported by disk-like structures that are composed of cartilage. Ligaments and muscles connect to the structures to allow your lower jaw to move.
When it functions correctly, it acts as a hinge on a door, so you can open and close your mouth. Unfortunately, past injuries, a poorly aligned bite, and other issues can cause strain on the joint. As a result, its functions can decline, causing several painful symptoms to develop.
A TMJ disorder, sometimes referred to as TMD, is more common than you might think. According to the National Institute of Dental and Craniofacial Research, about 5% to 12% of Americans live with the chronic condition. Although anyone can have it, women are twice as likely as men to suffer from it, while it also tends to occur more often in younger people.
What are the Symptoms of a TMJ Disorder?
The symptoms of the condition can be quite diverse, such as:
Jaw pain, stiffness, swelling, or tenderness.
Clicking, popping, or a grating sound when opening or closing the mouth.
Jaw locking into an opened or closed position.
Sore teeth.
Neck and shoulder pain.
Ear pain or tinnitus.
Can TMJ Be Treated?
You do not have to live with the challenges of TMJ. Your dentist will provide you with the relief you need using a noninvasive solution. A custom-fit oral appliance is worn to reposition and retrain your jaw to rest in a more natural position. By doing so, it takes the strain and pressure off the joint to reduce symptoms.
In some cases, your dentist may recommend orthodontics to realign your bite. Rarely, surgery is needed to correct the issue.
Stop Your Pain Today!
TMJ does not need to ruin your day. You can stop the pain and improve your quality of life with treatment from your dentist.
About Dr. S. John Salivonchik
Dr. S. John Salivonchik is a renowned dentist in the community for superior dental care. In addition to caring for your teeth and gums, he also specializes in TMJ therapy. He will create the customized solution you need to improve your jaw's function. Contact our office today to schedule your consultation.