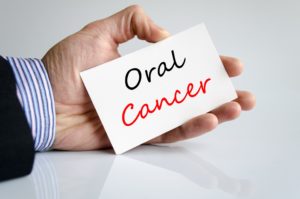 The American Dental Association recommends you visit your dentist in the Lehigh Valley twice a year for a cleaning and checkup. Besides brushing and flossing at home, routine appointments are vital to maintaining your oral health. Not only do they keep your teeth and gums healthy, but they also give you the opportunity to have an oral cancer screening. Although you may not think you need one, everyone can benefit from the power of early detection.

Importance of Oral Cancer Screenings
Oral cancer is classified as those that affect the head and neck; however, brain cancer is in a separate category. While it is not widely discussed, nearly 53,000 Americans will be diagnosed with oral or oropharyngeal cancer this year. Unfortunately, 1 person every hour of every day dies from the cancer. Only 57% of those diagnosed with oral cancer survive longer than 5 years.
The low survival rate is largely attributed to late detection. Often, it is not found until it has reached advanced stages or spread to other areas of the body. It is predicted, dentists can detect 80% of new oral cancer cases early through routine screenings.
Unfortunately, most Americans are not aware they need a screening or that they are available at routine appointments. April is Oral Cancer Awareness Month, dedicated to increasing public knowledge about the importance and availability of routine screenings.
Spotting Oral Cancer Warning Signs
Your dentist can quickly perform an oral cancer screening during your next semi-annual cleaning and checkup. They look for any concerning areas that may indicate cancerous or precancerous cells. If a suspicious area is found, a biopsy is taken and tested at a dental lab. Your dentist informs you of the results and if any additional treatment is needed.
If any signs of oral cancer appear between your routine appointments, do not hesitate to contact your dentist. These symptoms include:
Sores on the lips or mouth that will not heal.
White or red patches on the inside of your mouth.
Loose teeth.
Unexplained dental pain.
Lumps or growths inside your mouth.
Numbness or tingling in the mouth.
Ear pain.
Difficulty or painful swallowing.
Feeling as though something is stuck in your throat.
Difficulty moving the tongue.
If any of these symptoms last longer than 2 weeks, contact your dentist right away for an oral cancer screening.
Don't Skip Your Next Appointment
Despite the ADA's recommendation to see the dentist twice a year, one-third of Americans skip their routine visits. If you have been delaying your next appointment, now you have another reason to make the call. Visit your dentist for a cleaning, checkup, and oral cancer screening to ensure a healthy smile.
About Dr. S. John Salivonchik
For nearly 20 years, Dr. S. John Salivonchik has provided comprehensive dental care to the community. He focuses on prevention to keep the teeth and gums healthy. Besides routine cleanings and checkups, oral cancer screenings are a regular part of his preventive services. Contact our office today to schedule your next appointment.