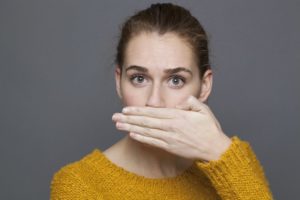 You're involved in a conversation with a friend when, all of a sudden, he or she begins to back away from you. Is it because of your breath? Nothing can be more embarrassing than to be involved in such a situation. But what can be done to prevent something like this from happening? Your dentist in Lehigh Valley has the answers to help you achieve fresher breath and healthier teeth and gums!
What Causes Bad Breath?
Certain foods are notorious for producing offensive odors. They include such items as onions, garlic, dairy products and tuna. These can be considered temporary bouts of bad breath, though, and they can usually be addressed with a session of oral hygiene.
Lingering bad breath is usually a sign of bacteria growth. As the latter cling to any leftover food or beverage particles in the mouth, they begin to release acids that can lead to problems like tooth decay and gum disease.
Having fresher breath, starts with first making some improvements in your oral hygiene.
How to Get Rid of Bad Breath
The process of protecting your mouth, teeth and gums from bacteria growth and the related bad breath hinges greatly on your dental care. Thus, it's important to always implement some basic practices into your routine and to be consistent.
Brushing and Flossing
At least two times a day, you should brush and floss your teeth. The combination of the two practices removes debris from the greater surface of your teeth and in the tight spaces between them, and they also provide protection for your gums.
Keep Mouthwash on Hand
Rinsing with mouthwash after a meal is an excellent precursor to brushing and flossing. It's the equivalent to doing the initial prep-work before cooking a large meal. Thus, it won't suffice for your oral hygiene by itself, but it definitely plays a valuable role.
Drink More Water
In addition to being vital to your total wellness, drinking water also helps to flush your mouth after a meal, which then limits the growth of bacteria.
Your Dentist Stands with You
In the fight against bacteria growth and bad breath, your main ally is your dentist. Thus, it's important to visit every six months for cleanings and check-ups.
Any stubborn bacteria, plaque or tartar will be removed to protect your oral health and ensure you have the freshest breath possible. Your dentist will also monitor your oral health to make sure you're not in danger of any maladies. So to schedule your first visit, contact your dentist today!
About the Author
Dr. S. John Salivonchik is a graduate of Temple Dental School. Throughout his career, he has maintained a commitment to providing only the best in dental care. Thus, Dr. Salivonchik has taken hours of continuing education in multiple forms of care. Additionally, he maintains professional affiliation with such organizations as the Pennsylvania Dental Association and the Academy of General Dentistry. He helps patients enjoy fresh breath and excellent oral health at his private practice, and he can be reached for more information through his website.