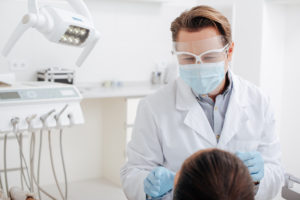 Whether you turn on the news, open your social media app, or check your email, there is one thing that seems to be on everyone's mind: COVID-19. Although social distancing, face masks, and extensive handwashing have played a crucial part in flattening the curve, the fight against the spread of the virus is far from over. As state economies reopen, dental visits can seem particularly risky because of the close proximity and contact with others. Here are three reasons your dentist in Lehigh Valley is wearing a face shield at your appointment.
Face Shields Are Strongly Recommended by the CDC and OSHA
Even before the pandemic, both the Centers for Disease Control and Prevention and the Occupational Health and Safety Administration put forth protocols for dentists to follow to ensure infection control practices were in place. Now that their daily exposure to blood and saliva is considered high-risk, they must use additional personal protective equipment (PPE) that will also cover vulnerable areas of their face, like their eyes.
Face Masks Alone Aren't Enough
According to the U.S. National Library of Medicine, the part of the body that is most commonly contaminated by the spatter of bodily fluid is the face. While medical-grade face masks help filter pathogens and prevent viruses from entering their system, dentists need PPE that will cover their entire face. Plus, the face shields effectively protect patients from the dentist's germs as well. Therefore, dentists across the board are wearing face shields in addition to their masks for the maximum level of safety.
Face Shields Can Be Easily Cleaned
While thorough sanitation has always been a priority, dentists today are taking those measures to the next level to ensure that their patients and staff are safe in their office. To allow for complete disinfecting and cleaning between each appointment, it is important that the PPE they use is either disposable or easily cleaned. Luckily for dentists, face shields have both of those capabilities! Depending on what is preferable for their practice, dentists can opt for single-use face shields that can be discarded after each appointment, or they can choose a reusable one that can be easily disinfected before its next use.
Seeing your dentist in a face shield can take some time to get used to. However, it is just one of the many steps they are taking to ensure everyone's safety!
About the Author
As a skilled general, cosmetic, and restorative dentist, Dr. S. John Salivonchik has built a practice based on providing solutions for any dental issues that arise. For over two decades, Dr. Salivonchik has delivered exemplary dental care that is always tailored to your smile. For detailed information on the extensive measures he is taking to ensure your safety at your next appointment, visit his website or give him a call at 610-502-1545.