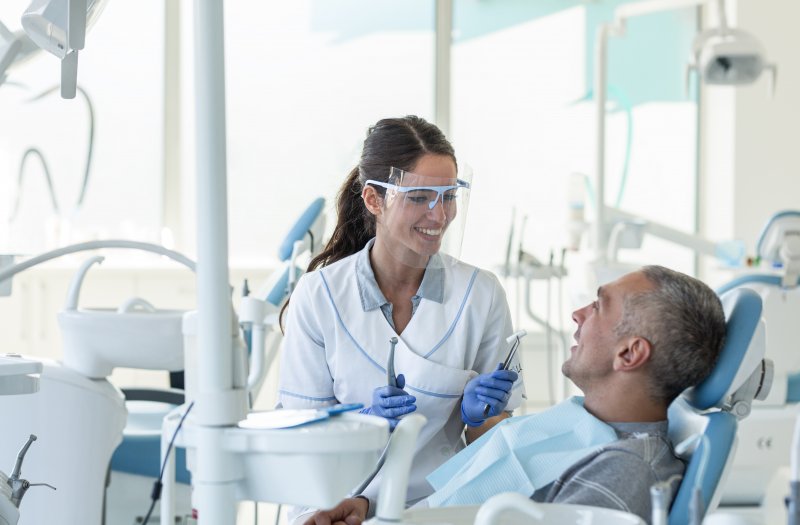 When the pandemic hit, the world as we knew it changed. In a few weeks, stay-at-home orders were issued, face masks were routine, and social distancing guidelines were in place. Fortunately, these measures have made the transition out of quarantine and into our "new normal" possible. However, many patients wonder whether continuing to delay their routine visits to the dentist is the sensible thing to do. If you have asked yourself the same question, then your dentist in Lehigh Valley is sharing four reasons you should reconsider.
Reason #1: Oral Cancer Screenings (and Other Non-Dental Issues)
A brief look in your mouth can give your dentist great insight into what is going on in the rest of your body. In fact, 90% of health conditions have oral symptoms! That is why your dental team dedicates time during your routine visit to conduct screenings for oral cancer, diabetes, HIV, and osteoporosis (to name a few!). Without these routine visits, these non-dental issues could easily fly under the radar and prevent you from getting the early intervention and treatment you need.
Reason #2: Routine Visits Help Prevent Dental Emergencies
At a moment's notice, your day can be ruined by a knocked-out, cracked, or chipped tooth. While accidents can happen to anyone, patients who visit their dentist on a bi-yearly basis have the added protection of routine exams and cleanings. By detecting and treating dental issues when they are small and removing your teeth from stubborn plaque and tartar, your dental team can keep your teeth and gums in tip-top shape. In fact, the Coalition on Oral Health reported that every dollar invested in preventive dental care saves patients between $8 and $50 in restorative treatment down the line!
Reason #3: Your Dentist Is an Expert in Infection Control
For patients considering postponing their routine visits, one word is at the forefront of their mind: Coronavirus. However, you can have peace of mind at your appointment knowing that your dental team takes extensive measures to practice proper infection control and prevent cross-contamination. In fact, a large portion of their schooling and advanced training was centered around just that! So, your dentist has an advantage when it comes to keeping you safe at your appointment.
Reason #4: Additional Safety Measures Are in Place
As if the already high standards from the Centers for Disease Control and Prevention weren't enough, dental teams across the U.S. are implementing additional measures in light of the current pandemic. Therefore, expect to see the below safety protocols in place at your next visit:
Virtual waiting rooms to make social distancing a practical reality.
Sequenced patient scheduling to allow for ample cleaning time.
Additional personal protective equipment for another layer of protection (i.e., face shields, disposable coats, etc.).
Extensive cleaning measures (i.e., deep cleaning each evening, hand sanitizing stations, etc.).
If the current pandemic is causing you to second-guess your routine dental appointment, remember the above! That way, you can have peace of mind knowing visiting your dentist is the best thing for your oral and overall health.
About the Author
Since graduating Summa Cum Laude from Temple Dental School with his Doctor of Dental Medicine, Dr. S. John Salivonchik has taken countless hours of continuing education courses and advanced training. In fact, his extensive hands-on experience, impressive clinical skill, and genuine passion for creating beautiful smiles make him a highly sought-after practitioner! If you are overdue for your bi-yearly visit, don't hesitate to visit his website or give him a call at 610-502-1545.