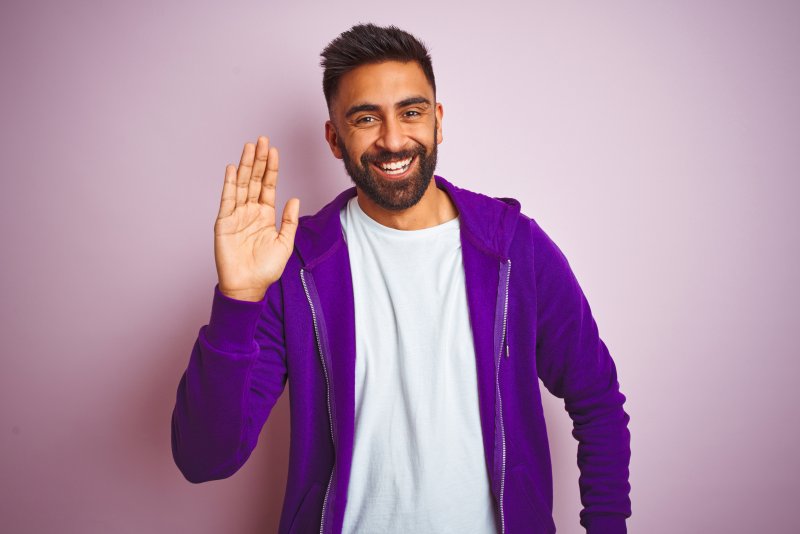 After months of following the stay-at-home orders, the transition out of quarantine has begun. To ensure that the shift into our "new normal" is safe, experts at the Centers for Disease Control and Prevention (CDC) are reminding the public to maintain a 6-foot distance from others. In fact, they believe that practicing social distancing has prevented up to 185,000 deaths! Therefore, your dentist is re-designing their daily operations to make social distancing a practical reality, and one of those measures is contactless greetings. If you are looking for one of your own, a dentist in Lehigh Valley is sharing four unique ones!
The Timeless Smile and Wave
When thinking of creative greetings to use during a pandemic, a classic smile and wave may not be the first thing that comes to mind. However, there is nothing as unique as your incredible smile! Plus, your dental team is united by their mission to help you achieve a healthy, beautiful smile that makes you confidently flash it at every turn. So, it is the perfect social distancing-friendly greeting to use with your dentist!
The Iconic "Live Long and Prosper" Salute
For all the Star Trek and pop culture lovers, this one is for you! When the Live Long and Prosper salute debuted over five decades ago, the creators didn't know they created a perfect greeting to use during a worldwide pandemic. Fortunately, this blessing gesture can be safely used from 6-feet away and is the perfect way to show off your fandom while saying hello.
The Formal Bow/Curtsy
Decades prior, people would show their respect by greeting someone with a bow or curtsy. Today, these gestures are rarely used but continue to hold the same meaning, which makes them particularly special. However, if you would like to show the same admiration for your dental team without being overly formal, then opt for a quick tip of your hat or bow of your head instead.
The Celebratory Air High-Five
At previous appointments, you may have celebrated a cavity-free visit with a celebratory high-five. However, the CDC is currently advising that dental teams do not use this greeting to prevent the potential spread of bacteria and viruses. Fortunately, you can opt for an equally as commemorative air high-five in the meantime!
If keeping a 6-foot distance while saying hello feels awkward, then try one of the above gestures instead. That way, you can give your dental team a friendly greeting without breaching social distancing guidelines!
About the Author
After completing his undergraduate degree from Muhlenberg College, Dr. S. John Salivonchik graduated with honors from Temple Dental School with his Doctor of Dental Medicine. Over the past 20+ years, he has used his impressive experience, advanced training, and passion for dentistry to help his patients achieve strong, healthy smiles. If you would like information on additional measures Dr. Salivonchik is taking to ensure his staff and patients are safe during COVID-19, visit his website or give him a call at 610-502-1545.