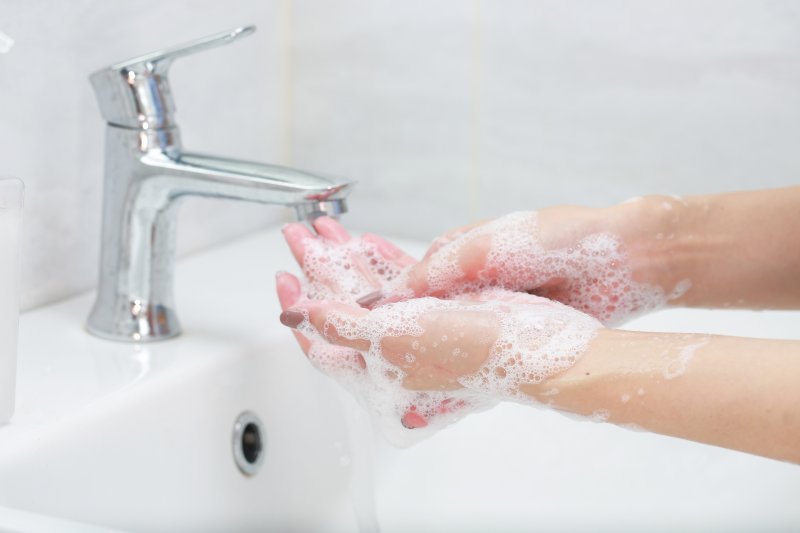 Since the start of the COVID-19 pandemic, every aspect of our lives has been re-designed to make infection control a practical reality. While extensive research is still underway on the intricacies of this novel virus, experts at the Centers for Disease Control and Prevention continue to reinforce the importance of proper hand hygiene both in public and at home. But how can handwashing and sanitizing limit the transmission of the Coronavirus? Your dentist in Lehigh Valley is sharing the power of handwashing, proper technique, the importance of frequency, and when to use hand sanitizer.
The Power of Handwashing Against COVID-19
Since experts are still studying the complexities of COVID-19, many wonder how proper hand hygiene can effectively fight against it. The answer is found in the chemical makeup of soap and how it interacts with water. Since soap is a surfactant, it can effectively breakdown the molecular bond the virus makes with the skin on our hands. From there, the water rinses it away, which leaves our hands clean of harmful germs and bacteria that could easily spread from person to person. Plus, effectively, frequently washing your hands can prevent the virus from entering your body through your eyes, nose, or mouth. So, by practicing proper hand hygiene, you can protect you and your loved ones from contracting COVID-19.
6 Steps to Washing Your Hands Effectively
Although rinsing your hands under some water can remove visible dirt and debris, it will not effectively remove the bacteria and viruses that live on your hands. Therefore, it is of the utmost importance that you wash your hands with soap consistently. The next time you are cleaning your hands, make sure to:
Wet your hands under clean, running water.
Apply your soap of choice into the palm of your hands and work into a lather.
Gently scrub the fronts, backs, and sides of your hands for 20 seconds.
Clean under your fingernails and any jewelry you are wearing.
Rinse your hands thoroughly to remove the soapy residue.
Dry your hands thoroughly with a paper towel or clean cloth.
When You Should Wash Your Hands During a Pandemic
Pre-pandemic, washing your hands when preparing food, after using the restroom, or when taking out the garbage was routine. However, experts at the CDC and World Health Organization are currently recommending increasing the frequency of handwashing in light of the pandemic. Therefore, make sure to clean your hands after:
Coughing, sneezing, or blowing your nose.
Interacting with others.
Touching public surfaces.
Returning home from the grocery store, bank, shopping mall, etc.
Is Using Hand Sanitizer Equally as Effective?
While hand sanitizer is not as effective as using soap and water, it does serve an important purpose during a pandemic. When washing your hands isn't a viable option (like when you're driving), then opting for a squirt of hand sanitizer can keep your hands clean. However, it is important to treat this as a short-term solution and proceed with washing your hands as soon as possible.
Considering the current pandemic, it is more important now than ever that we all do our part in limiting the spread. Fortunately, simple but powerful hand hygiene can effectively fight COVID-19, flatten the curve, and keep your loved ones safe!
About the Author
For 20+ years, Dr. S. John Salivonchik has used his clinical skill, passion for dentistry, and genuine care for his patients to deliver high-quality general, cosmetic, and restorative dentistry. In addition to being a member of multiple prestigious organizations, including the American Dental Association, Dr. Salivonchik has also completed numerous hours of continuing education, advanced training, and specialty seminars to continue to hone his craft. If you would like additional information on how Dr. Salivonchik is using his expertise to keep his patients safe during COVID-19, visit his website or give him a call at 610-502-1545.