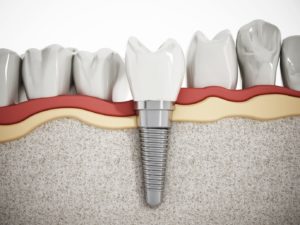 Are you among the 178 million adults in the United States missing at least one tooth? You probably feel insecure about your appearance while you also live with new daily challenges when trying to eat your favorite foods and speaking. However, the complications extend deeper to also negatively impact your oral health as you begin to lose density of the jawbone. To fill the space, you have many options available, including dental implants near Allentown. However, you still have some questions before you can make your final decision. As your trusted dentist, Dr. S. John Salivonchik has 5 facts you should know to give you peace of mind to schedule your appointment.

1. Most Successful and Predicable Solution
Dental implants offer over a 95% success rate when used on the ideal candidate. When compared to other options, they provide the most predictable results due to the materials and procedure used to replace your missing teeth. They are composed of 3 main components: an implant post, an abutment, and a dental crown. The body naturally accepts the biocompatible post to allow the jawbone to fuse to it. This makes it last for a lifetime while the abutment connects the dental crown to the post to complete your smile.
2. Smile that Looks and Feels Natural
Often, prosthetic teeth have a bad reputation for feeling and looking fake, but not dental implants. They are customized to match your exact needs while it is securely anchored to the jawbone. As an exact replica of your missing tooth, it will blend in seamlessly with your remaining teeth. Using an all-ceramic restoration, it will look natural so you can smile confidently.
3. Restore Your Quality of Life
After the jawbone has fused to the post, it will provide a secure foundation for the dental crown. You will never have to worry about slipping or discomfort so you can eat your favorite foods. In fact, when compared to other options, dental implants give over a 70% increased biting force.
4. Replace the Root of Your Tooth
Dental implants are the only form of tooth replacement to replace the root of your tooth by surgically placing the post into the jawbone. Other options only substitute the areas that are visible. Dental implants fully replace the tooth to anchor the restoration in place.
5. Improve Your Oral Health
When you have a missing tooth, the underlying bone will start to lose density due to the lack of stimulation. This causes your remaining natural teeth to shift toward the open space, causing overcrowding. They become more difficult to clean, leading to gum disease and additional tooth loss. Dental implants are the only solution that stops bone loss to protect your oral health.
Benefit from Dental Implants Today
If you are ready to complete your smile with dental implants, it is time to schedule your consultation with your dentist near Allentown. Dr. Salivonchik will perform the consultation you need to ensure that you are a candidate for the procedure.