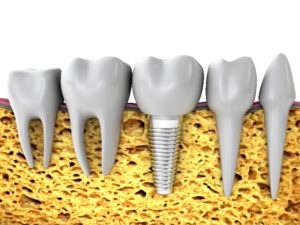 Are you among the 120 million Americans who are missing at least one tooth? To regain a complete smile, you have likely tried traditional forms of tooth replacement, like a crown and bridge or partials; however, they do not give you the results you want. As an alternative, you have heard about the benefits of dental implants near Allentown. As a successful and reliable option to replace missing teeth, they provide over a 95% success rate. Before you are ready to make the switch, you are concerned about their cost. When determining how much you can expect to pay for your new smile, there are several things that you must consider.

How Much Do Dental Implants Cost?
It is no secret that dental implants cost more upfront than traditional options, like dentures; however, they have the potential to pay for themselves over time. Unlike dentures, you will not need to have them adjusted or replaced because they can last for a lifetime with the right care. As a result, they end up being more cost effective.
When estimating how much you can expect to pay for dental implants, there is no easy answer. There is no set price tag for the procedure. What your friend or neighbor paid for their dental implants will not be what you will pay because there are several factors that will influence the price, such as:
How Many Teeth Need to Be Replaced: A single dental implant is cheaper than an entire arch; however, an arch is more affordable when compared to replacing each tooth individually.
Specialists: If a specialist is needed, such as to treat gum disease prior to the placement of the posts, you will have to pay their fees.
Sedation and Anesthesia: Sedation and anesthesia are often used to provide a comfortable procedure. Depending on the types used, your costs will vary.
Additional Procedures: It is not uncommon to need additional procedures prior to the placement of the posts, such as tooth extractions or bone grafting.
Materials: There are more affordable materials available; however, they can compromise the long-term success of the procedure.
Dental Insurance: In most cases, your dental insurance will not pay for the treatment, but they may cover certain aspects of it, like the dental crowns.
How Much Will I Pay?
There is no easy answer to how much you can expect to pay for your new smile. To get an estimate, your best option is to schedule a consultation with your implant dentist. They will create a customized treatment plan and discuss your payment options.
About Dr. S. John Salivonchik
Dr. S. John Salivonchik is a dedicated dentist in the Lehigh Valley who is committed to helping his patients achieve optimal oral health. In addition to general services, he also provides areas of specialty, such as dental implants. He will help to determine if they are the right option for you. If you are ready for an estimate for your new smile, contact our office today to schedule your consultation.