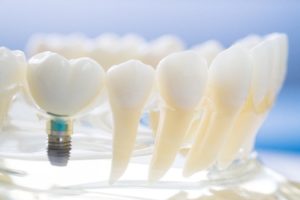 Living with missing teeth is no laughing matter. With each tooth you lose, you develop new daily challenges. Now, there are many solutions to complete your smile. Besides traditional treatments, you could enjoy the benefits of dental implants in the Lehigh Valley. While both options replace missing teeth, only one allows you to regain the next best thing to your natural ones. By choosing dental implants, you will invest in a lasting solution to improve your quality of life.

Restore Your Quality of Life
Dental implants not only allow you to enjoy a solution that offers a high success rate but also one that is preferred by patients. In fact, 99.45% of patients report they have improved their daily life in several areas.
Surgically implanting the biocompatible posts into your jawbone replaces the roots, which is not possible with any other treatment. As a result, you enjoy several advantages, including:
High Success Rate: Dental implants provide over a 95% 10-year success rate. They can last for several decades with the right aftercare, so you never need to worry about them needing to be replaced.
Improved Bone Density: Replacing the root stimulates your jaw to encourage new growth. This preserves your bone density while allowing your posts and jaw to fuse to one another.
Enjoy Your Favorite Foods: You will regain as much as 70% of your biting force to enjoy your favorite foods again. With your jawbone fused to the posts, you never need to worry about any slipping or irritation.
Enhanced Confidence: All-ceramic material allows your restorations to closely mimic the appearance of real teeth. You can smile with confidence knowing no one can tell they are not your natural teeth.
Promote Your Oral Health: Preserving your bone density protects the health of any remaining natural teeth. It stops dental drift to reduce your risk of tooth decay, gum disease, and additional tooth loss, so you have one less thing to worry about.
Look Younger: Dental implants protect your facial structures to prevent premature sagging or wrinkling of your skin. This allows you to look your age to maintain a youthful appearance.
Peace of Mind: Your dental implants should never need to be replaced if you care for them properly. You will have peace of mind knowing your new smile will last for a cost-effective solution.
Invest in Your Smile Today!
If you have tried traditional treatments but did not achieve the results you wanted, dental implants may be the solution for you. Your implant dentist creates the customized treatment plan you need to restore your smile and your quality of life.
About Dr. S. John Salivonchik
Dr. S. John Salivonchik has delivered advanced dental services for over 20 years. He combines the art and science of dentistry to create healthy, beautiful smiles that last. Dr. Salivonchik offers the latest tooth replacement treatments to find a solution that meets your needs. Contact our office today to see if dental implants are right for you.