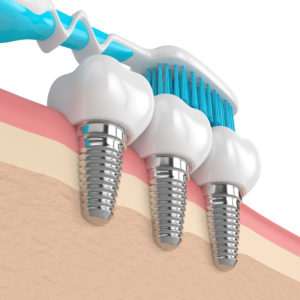 Have you made the choice to join more than 500,000 people this year who are using the most successful solution to replace their missing teeth? With dental implants in the Lehigh Valley, you will make a wise investment in your oral health and your quality of life. With the potential to last for a lifetime, it is best to protect your new smile with the right aftercare.

Brush Twice Per Day
Although dental implants are not subject to tooth decay, harmful plaque and bacteria will still accumulate on them. If they are not removed, it will not just hurt their appearance but can also lead to an infection, which may cause them to fail.
To remove the buildup, it is best to use a small, soft-bristled toothbrush and a low-abrasive, tartar-control toothpaste. Take the time to clean the crown and your remaining natural teeth well twice per day. Be sure to clean all surfaces for at least two minutes each session.
Floss Your Abutments Daily
The biggest threat for implant failure involves a preventable infection. Often, it results from bacteria and plaque accumulations around the abutments. To reduce the risk, use a high-quality dental floss to clean around your abutments every day before going to bed. Some people have found water flossers to be easier and more effective. Do not forget to floss any remaining natural teeth as well.
Visit Your Dentist Regularly
It is best to visit your dentist every 3 to 6 months for a cleaning and checkup. During the appointment, the abutments and crowns will be thoroughly cleaned. In addition, your dentist will take the time to evaluate your implant posts to ensure that they are still functioning as intended. They will look for signs of any oral health complications, like inflamed gum tissue, which could lead to implant failure. With quick detection and early intervention, you will help to ensure that your new smile lasts for decades.
After performing your examination, your dentist may recommend changes to your oral hygiene routine at home, such as the use of an antimicrobial mouthrinse or disclosing tablets to better remove plaque buildup.
Protect Your New Smile
With the right aftercare, your dental implant posts have the potential to last for a lifetime; however, your crowns will need to be replaced. They will suffer from daily wear and tear. As a result, you will need new restorations about every 10 years. You can help to promote how long they last by caring for them correctly.
Make sure your new smile thrives for as long as possible. Take the time to care for your dental implants each day.
About Dr. S. John Salivonchik
Dr. S. John Salivonchik is a preferred choice for advanced dental care in the community. Due to his extensive training and qualifications, he is well-renowned in the area as a general, cosmetic, and restorative dentist. He also offers implant dentistry to treat tooth loss. If you are ready to complete your smile, he has the solutions you need. Contact our office today to schedule your consultation.